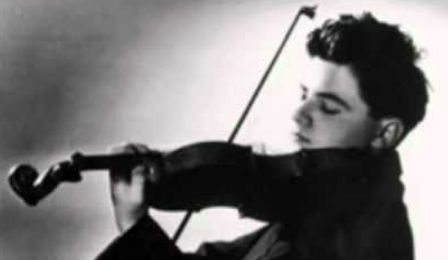 Polish violin virtuoso Josef Hassid was born on this day in 1923 – 92 years ago.
A prodigious student of Carl Flesch, he was destined for a career of the highest caliber before crumbling tragically to the effects of mental illness.
Violinist Fritz Kreisler famously remarked: "A fiddler such as Heifetz is born every 100 years; one like Hassid every 200 years".
[video_lightbox_youtube video_id="TucPiJgnMcM" width="590" height="385" auto_thumb="1"]
JOSEF HASSID & GERALD MOORE | KREISLER | CAPRICE VIENNOIS | 1940
Pianist Gerald Moore once said: Hassid was "the greatest instrumental genius I've ever partnered … he had technical perfection, marvelous intonation, glorious tone – but there was something above that which was quite incredible – a metaphysical quality".
Josef Hassid was sadly institutionalised with severe schizophrenia, aged 20, and died as a result of brain surgery complications in 1950 – aged just 26.
[video_lightbox_youtube video_id="DmfCjgI50Fo" width="590" height="385" auto_thumb="1"]
JOSEF HASSID & GERALD MOORE | JOSEPH ACHRON | HEBREW MELODY
[video_lightbox_youtube video_id="EpMiNez6RR4" width="590" height="385" auto_thumb="1"]
JOSEF HASSID & GERALD MOORE | DVORAK ARR. KREISLER | HUMORESQUE OP. 101, NO. 7
[video_lightbox_youtube video_id="VqhncQTMw8s" width="590" height="385" auto_thumb="1"]
JOSEF HASSID & GERALD MOORE | TCHAIKOVSKY | SOUVENIR D'UN LIEU CHER OP. 42