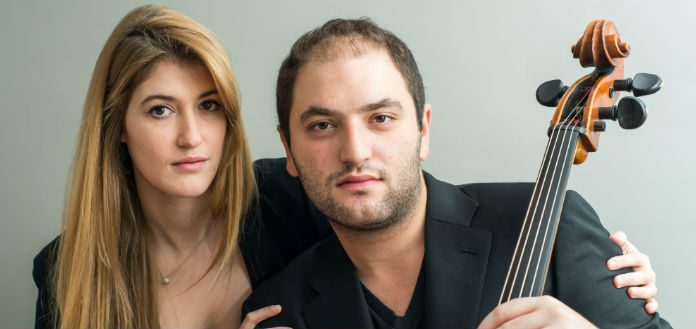 In a VC-exclusive blog, Julian talks us through the pair's experience at this year's competition – and the importance of finding that special someone to share your music- making experiences with.
"Competitions can be lonely. Even in the face of elimination, when social competitors commiserate over food and drinks, there is still a sense of loneliness. When I came across a duo competition in early 2016, I was intrigued. Find that special person, that artist who turns your singular voice into something complete and compelling. Contemplate and explore together, make a perfect musical bond, and then take it on the road. Competitions can be stressful, even scary, but with a colleague you both admire and like, there is potential for some fun as well. Win or lose, you are in it together.
It was a no brainer for me, as I had already found my person, Canadian pianist Marika Bournaki. We met in Aspen in 2006 as 15-year-olds and had run into each other at the Verbier Festival in Switzerland, and as students at Juilliard. At the time Marika and I considered entering the Boulder International Chamber Music Competition's "The Art of Duo", we had already been playing recitals in the states and abroad, and had filled our time together with adventures. Driving in the Austrian countryside searching for our castle recital, picking our geoduck in the humidity of Hong Kong, recording at a victorian era academy in Nova Scotia until the wee hours of the morning, sleeping in a closed Munich airport, swimming off the coast of Mexico until minutes before a performance—these are just a few of our most cherished memories. We figured Boulder would be another opportunity for us to enjoy playing and being together, regardless of the outcome.
During the competition we wore two hats. On the one hand we were serious competitors, rehearsing as much as possible, continuing to probe our interpretations (some of pieces we had played countless times), all while trying to isolate ourselves from 'mind-crowding'—in a competition, the darnedest things can weasel their way into a fragile headspace. Yet, on the other hand, we were also trying our best to enjoy the experience. When our work was done for the day, we would eat at the local favorites, walk pedestrian malls, play pool at the arcade, and watch our favorite hockey team over nachos at the village sports bar. We tried to enjoy every minute, because that was in our control. If we allowed ourselves the freedom to let loose, we could look back on the experience with fondness regardless of the outcome, just another adventure.
In planning our repertoire we tried to show as much variety as possible. We had only 20 minutes for the semi-final and 30 minutes for the final, which really came down to 15 and 25, as there were requirements in each round. With those precious minutes we aimed to display the breadth of our capabilities as a duo. Movements of larger works were allowed, so we picked an assortment, like tapas. In the first round we had Beethoven, Debussy, Popper, and the commissioned work by Arthur Gottschalk, and the final showcased Bach, Schumann, Bloch, Rachmaninov, and Poulenc. We were confident in our choices going into the competition, but some aforementioned 'mind-crowding' occurred when we consulted the program booklet. We saw complete sonatas of Franck, Grieg, Schumann, and Beethoven on other competitors' programs. Were we too varied? Would we come across as less serious because we did not have a large scale work in its entirety? Of course it was too late to change, even though we could have made the adjustment, but we had moments of doubt.
Even with this doubt, we focused on the aspects we could control. Along with our fun times, we were in control of our performances. We play as one. We think and breathe as one. We interpret as one. This doesn't mean we don't have passionate disagreements, but we resolve them as one. We are very lucky to have found each other. In the competition we felt free to be ourselves, which was liberating. Often in competitions that judge "cello playing" or "piano playing", there are musical sacrifices to be made, setting interpretations to cruise control. Often the absence of an interpretation is the best route in those circumstances. Five "6's" are worth much more than two "10's" and three "0's", if you catch my drift. But the essence of this competition was duo playing. We hoped the result would be most influenced by the level of "duo playing", and not by a particular jury member's opinion of our artistic voice. This was a risk, but what Marika and I do is so deeply rooted in musical opinion, that taking it away would leave us with no inspiration whatsoever.
Our gamble paid off, and we were shocked. The jury chairman Martin Beaver came out to announce the awards and gave a thoughtful, considerate speech full of both appreciation for the competitors' efforts and a realistic explanation of the jury's decision-making process. He said (paraphrasing) that though the jury members had heard many brilliant performances by individual players, they kept the spirit of the competition in mind, as a competition for duos. He continued that another consideration was the variety of programming; this criterion helped certain duos stand out in myriad styles, and also gave the jury a glimpse into potential future recital programming.
Tears streamed down Marika's face. We had won while being true to ourselves, a seemingly impossible feat in this day in age, in an increasingly cookie-cutter competition environment. Though most of the time having a musical opinion can be controversial, occasionally being yourself ends up paying off. We were so humbled and thrilled to receive the first prize at the Boulder International Chamber Music Competition, and were so happy to add another adventure to our artistic lives. Always have fun, always stick to what you believe, and try to do it all with someone you love.
-Julian"