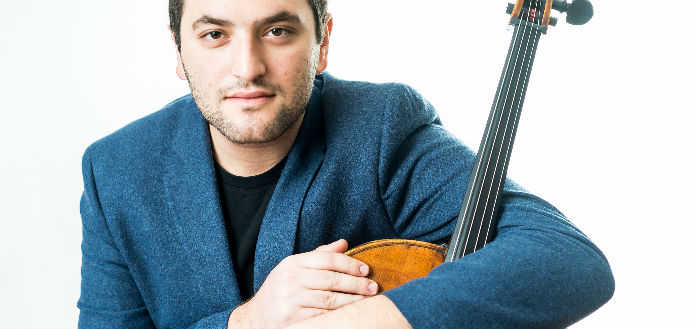 HARBIN - With the 2016 Schoenfeld International String Competition underway this week in Harbin, China, VC recently caught up with a number of former prize winners to get a better understanding of their time at the competition – and the career-changing opportunities the biennial event has presented.
2013 Cello Division 1st prize winner, Julian Schwarz guest blogs about his eventful experience:
"In 2004 I had the great honor of performing in a masterclass given by the distinguished cellist Eleanor Schoenfeld. I had heard wonderful things about her teaching, and was eager for the opportunity. She was a very elegant woman. Her German accent was subtle yet intriguing, as was her graceful playing. Little did I know that nine years later her namesake competition would prove such an important part of my young career.
A week in August 2013 was the first installment of the inaugural Alice and Eleanor Schoenfeld International String Competition (then in Hong Kong, now in Harbin). Though I had made the effort to apply and officially enter the competition, I was reticent to make the trek. The timing was not ideal, as the competition was set to take place following my first summer as a faculty member at the Eastern Music Festival, which directly preceded a residency at the piano Sonoma Festival in California. I had the usual pre-competition thoughts and fears—what if I go all the way there and get cut in the first round? When will I find time to prepare the compulsory piece?
My response to these fears was to put off buying my plane tickets and focus on my work at hand. The days hurried by. The competition was right around the corner and I had neither began learning the required piece nor booked any travel or accommodation whatsoever. Decision time. I bought my tickets. I figured that I would somehow find a way to prepare the necessary repertoire if I had no choice but to step on that plane.
On the day of my flight to Hong Kong, I found myself in a state of palpable stress. I had yet to look at the commissioned piece. I told myself to focus on my concert that afternoon and worry about the competition on the way to the airport (I was catching a 1 am flight after a late afternoon chamber performance in Sonoma).
The flight was long, but allowed me to study the repertoire over my breakfast of seafood congee. It was my first time in Hong Kong, but I promised myself I would not let my desire to enjoy the town get in the way of my preparation. I checked into the hotel and started to practice. It turned out that nature had its own way of insuring my practice captivity—it was typhoon time. Yes, the whole city was filled with rivers of water, and I was confined to my hotel room by government order. All day I practiced. I played from morning till night, and sometimes with a practice mute at 4 am during bouts of jet lag.
During this period of practice madness I convinced myself that the only way to get over the guilt of having royally procrastinated learning the required piece, was to commit it to memory. How could the jury possibly think I had crammed learning a piece that I had memorized? This pursuit was aided by the competition's 24-hour postponement of the first round.
The preliminary came and went in a flash. My bow hair limp, I performed my best and made it through my required piece unscathed. As I hadn't heard back from the competition that evening, I figured my presence in any future rounds unlikely. When 2 am rolled around, I rolled around to my deafening hotel phone. I had advanced. The next round was in 8 hours.
Though the typhoon made scheduling slightly more compact, I can't say I had any problem with it. In performance, it's the best feeling to just get out there and do it. The more time you have to think the worse it gets. If you give your brain a chance to get anxious, it will get anxious. This is one of the reasons I adore afternoon concerts. You get up, have something to eat, and play your heart out. For an evening performance, you get up, worry, worry some more, and then play your heart out.
The next rounds happened in similar fashion to the first. Always a 2 am wake-up call with good news, and another performance right around the corner. The final call was to tell me I had won the first prize.
The prizewinners concert was the first moment the reality of my win started to sink in. It was my conversation with the eminent maestro Jorge Mester directly following the performance that made me the most excited. I was just onstage holding a big foam check in one hand and a human sized trophy in the other, but it was my very brief conversation with maestro Mester that gave me the biggest rush.
"Maestro Mester would like to see you now," I was told by a competition employee.
I was caught off guard, but was eager to hear what he had to say—he was the jury chairman after all.
"Yes Julian," he started, "I need you to be the principal cello of the Louisville Orchestra this season ok? Think about it ok? Here's my information. Thanks."
I could barely get a word in of appreciation before he had left. Wow, what an offer. And so soon after all of the incredible competition festivities.
I was still in school and, with great regret, had to turn down the offer, but this was just the beginning of a wonderful friendship and musical partnership with this great maestro. I played the opening week as principal cello in Louisville, as it was before school was set to begin. That week I was offered a solo engagement with the orchestra in a coming season. The next summer, I was called by the Orquesta Filarmonica de Boca del Rio in Mexico to perform as its first guest soloist. It was a newly created orchestra, with none other than the great maestro Jorge Mester as the Music Director.
Since the competition I have worked with maestro Mester in Boca del Rio, Veracruz, Louisville, and Mexico City, performing Dvorak, Elgar, and Shostakovich 1st Concertos. What a gift the competition gave me to play for this great conductor.
The year after the competition my solo engagements started to increase. Presenters and orchestras that had been considering me as a soloist for some time finally had the stamp of approval that only a prominent international competition can provide.
The most influential opportunities the Schoenfeld Competition awarded me came as a result of the important jury members and their desire to engage me in the future, but the monetary prizes were also useful in my career. The money I won was used to record the complete cello/piano works of Ernest Bloch for the Milken Archive, to make my debut recital recording with pianist Marika Bournaki (to be released later this year), and to buy a beautiful upright piano for my apartment in New York City. I was also awarded a fantastic German cello that I still own. It was quite the ordeal to figure out how to get two cellos back with me to the U.S. post-competition, but I am happy to say that the German instrument survived just fine in the hold!
I wish nothing but the best for the prizewinners of this year's Schoenfeld Competition. There are fantastic opportunities for those who win, and for those who don't, one must remember that being a musician is about getting out there and doing it. I love playing for people. I love playing wherever there is a public willing to listen. I played for large, appreciative audiences at the 2013 Schoenfeld Competition. That will always be enough.
-Julian"
A graduate of the Juilliard School, where he studied with respected cello pedagogue Joel Krosnick, Julian Schwarz was awarded 1st prize in the Cello Division of the inaugural 2013 Alice and Eleonore Schoenfeld International String Competition, in Hong Kong. His recent solo debuts include performances with the Charlotte, Des Moines, West Virginia, Toledo, Amarillo, Louisville, Queensland and Washington Symphonies.