BREAKING | Junior Semi-Finalists Announced at Menuhin Competition Richmond 2021
The semi-final round for the junior division will be streamed on The Violin Channel on May 15 at 10:00 AM and 2:00 PM EST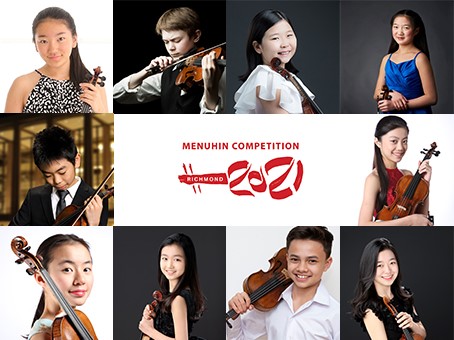 This year's junior semi-finalists are:
Boha Moon (14, South Korea)

Hannah Wan Ching Tam (15, China)

Corina Deng (13, Canada)

Edward Walton (15, Australia/United Kingdom)

Jinan Laurentia Woo (13, South Korea)

Seohyun Kim (12, South Korea)

Raphael Nussbaumer (15, Switzerland)

Fiona Khuong-Huu (14, Japan/France/United States)

Keila Wakao (15, Japan/United States)

Kento Hong (14, United States/Japan/Taiwan)
This year's jury is comprised of violinist Pamela Frank (Chair), violinist and conductor Joji Hattori (Vice-Chair), violinist and entrepreneur Aaron Dworkin, pianist Piers Lane, violinists Soyoung Yoon, VC Artists Noah Bendix-Balgley and Angelo Xiang Yu, violinist, conductor, and educator Alf Richard Kraggerud, and conductor and Music Director of the Richmond Symphony, Valentina Peleggi.
The first prize winner of this year's junior division will receive USD $10,000 and the loan of a fine, Italian violin, sponsored by Florian Leonhard Fine Violins.
Five junior semi-finalists will progress to this year's final round, to be held on May 21.
As the competition's official international broadcaster, all rounds will be streamed on The Violin Channel. You won't miss a beat.
Full competition and festival schedule available at: www.2021.menuhincompetition.org/program-tickets