Klein International String Competition Announces Semi-Finalists
Held at the San Francisco Conservatory of Music, the 38th edition will be held from June 3-4, 2023
The Irving M. Klein International String Competition, produced by the California Music Center, is open to musicians between the ages of 15 and 23. Celebrating 38 years of championing the world's finest young string players, the Klein International String Competition will kick off live at the semifinal round on June 3rd.
As the competition's official partner, audiences worldwide will be able to watch the competition LIVE on The Violin Channel.
Chosen from 111 entrants, the semifinalists are:
Vincent Garcia-Hettinger, cello, 17 (TX)
Audrey Goodner, violin, 17 (TX)
Mei Hotta, cello, 20 (VA)
Haddon Kay, cello, 23 (IL)
Blaire Kim, violin, 19 (KOREA)
Zechariah Mo, viola, 21 (IL)
Ray Ushikubo, violin, 21 (CA)
Sophia Werner, violin, 20 (NY)
Emad Zolfaghari, viola, 18 (CANADA)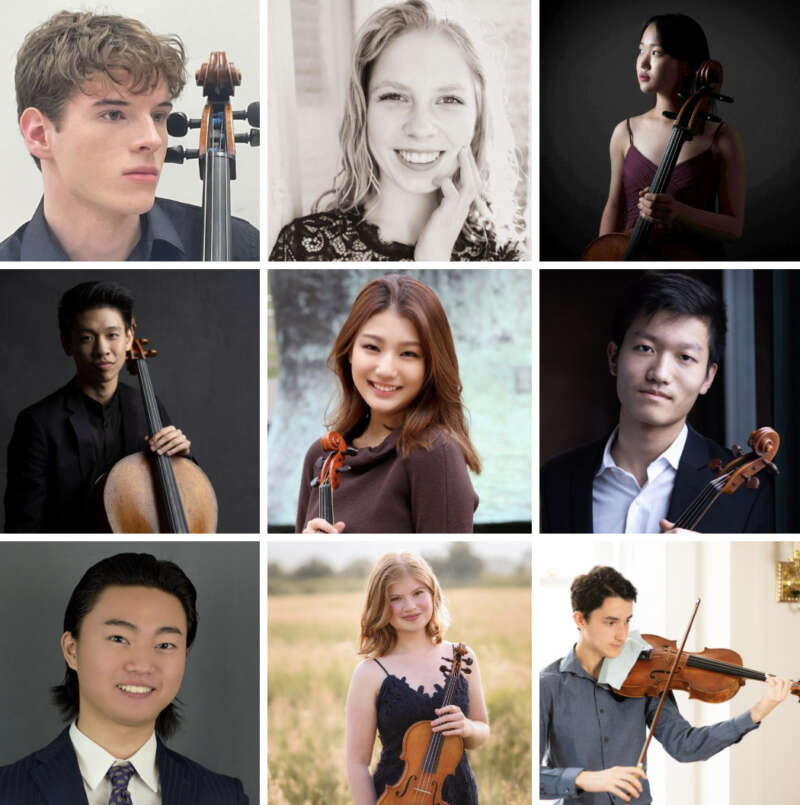 The jury will include violinist Glenn Dicterow, violist Karen Dreyfus, cellist and 2014 Klein first prizewinner Zlatomir Fung, this year's commissioned composer Gity Razaz, bassist Harold Robinson, and conductors Daniel Stewart and Barbara Day Turner.
Cellist Coleman Itzkoff, 2016 Klein prizewinner, is this year's mentor and co-hosts with Klein Artistic Director Mitchell Sardou Klein. The latter noted, "Selection of this remarkable group of young musical artists was especially challenging this year, with so many inspired application performances to choose from. It's truly thrilling to see and hear the level of musicianship that this new generation of string players is exhibiting."
The grand prize winner will receive $5,000 cash and performance contracts with the Peninsula and Santa Cruz Symphonies, Gualala Arts Chamber Series, among others, valued at $13,000.
The second prize of $3,500 cash and performance contracts is valued at $5,500, including a performance with the San José Chamber Orchestra. Ruth Short gives this prize in memory of Elaine H. Klein. A third prize of $2,500 is given in memory of Milton Preves by Judith and David Anderson.
Two fourth prizes of $1,500 each are awarded, one given by Maria Klein in memory of Jerry Lee Klein. Each semifinalist not awarded a named prize will receive $1,000. Awards of $500 each are given for the best performance of the commissioned work by Gity Razaz, and of the solo Bach.
This year's commissioned composer, Gity Razaz has been commissioned and had her work performed by Seattle Symphony, Milwaukee Symphony Orchestra, Washington National Opera, National Sawdust, Philadelphia Chamber Music Society, and violinists Jennifer Koh and Francesca DePasquale (both top Klein prizewinners). Currently a member of the composition faculty at Mannes School of Music prep-division, Razaz is a graduate of the Juilliard School under the tutelage of Samuel Adler, Robert Beaser, and John Corigliano. Recent highlights include a 2021 commission from the BBC Symphony Orchestra under Sakari Oramo for the Last Night of the BBC Proms.
Previous winners of the Klein Competition include Jennifer Koh, Mark Kosower, Vadim Gluzman, Jennifer Frautschi, Alban Gerhardt, Nikki Chooi, Teng Li, Francesca dePasquale, Oliver Herbert, Frank Huang, Tessa Lark, and Robert deMaine.