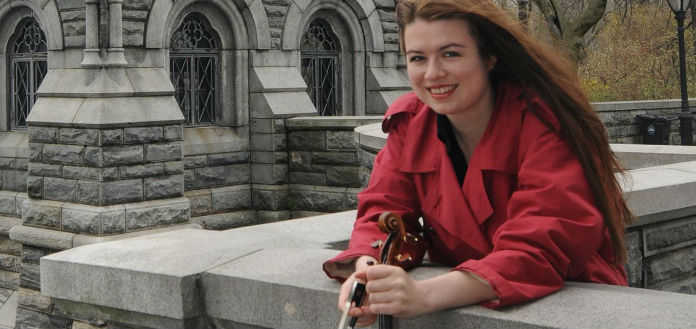 The Violin Channel recently caught up with Canadian violin virtuoso, Lara St John
In a VC-exclusive blog, Lara talks us through her latest endeavour, the recording of her new 'Shiksa' album with pianist, Matt Herskowitz - featuring 14 newly-commissioned arrangements for violin and piano from traditional songs of Armenia, Palestine, the Jewish Diaspora, Russia, Macedonia, Serbia, Greece, Romania, and Hungary.


"I've long been a collector and lover of music from Eastern Europe, beginning with my first of many trips to Hungary at 11 years old. After my concert the presenters took me to a restaurant with a Roma band, and here I first began to wonder if I might have been kidnapped by a Canadian family as an infant, since this was obviously where I was from.
Some years later, I lived in Moscow (then the USSR) for a year, and traveled through the Caucasus, the now former Yugoslavia and parts of Central Asia, all the while listening to that which was sung and played, collecting music of folk, Roma, and Jewish origin, mostly in my head.
Though a large portion of my life revolves around playing classical concertos, recitals, and owning my own record label, the rest of the world is never far. I perform and record with my Polka band, Polkastra, with the Pablo Ziegler Tango Quartet, and with DanzaNova, a Klezmer band.
I met the great jazz pianist Matt Herskowitz several years ago and he inspired me to bring life to my idea that some of this huge collection of tunes might be well heard anew – on the concert stage. So I combined my knowledge of melodies with composers I knew and respected, and thus was born the Shiksa project.
It includes songs from the Jewish Diaspora, Armenia, Palestine, Russia, Macedonia, Serbia, Greece, Romania, and Hungary. Some are fully written, some are partly improvised, but they all come from tunes that I have known and loved for years.
Matt is able to add yet another facet to this project, since his knowledge of free improvisation, world music, and jazz is quite a force in the duo.
Some of the tunes are internationally known (such as the Czardashian Rhapsody) but my real intention was to bring beautiful old songs to life again, as re-imagined by today's composers.
Lara
*Shiksa is a Yiddish word for non-Jewish girl. It turns out that everyone has a name for folks like me – in Roma it's Gadji, in Arabic, Ajnabi, etc. – so the album has, in fact, nine titles, all of which mean female outsider.
As the eponymous Shiksa on this album (which contains proportionally more music of Jewish origin than any other), I decided to make it my primary title since it's been quite a few generations since Portnoy and Herzog. The less savoury connotations have all but disappeared, and it's time to give Shiksas a better name. Besides, it's not wrong. I am one."
LARA ST JOHN & MATT HERSKOWITZ | CZARDASHIAN RHAPSODY | ARR. MARTIN KENNEDY