Larsen Strings' Founder Retires After 30 Plus Years
Laurits Th. Larsen has stepped down as CEO of the renowned string manufacturing company. He is succeeded by Thomas Petersen, who is announcing a new Gold Partnership with The Violin Channel
Larsen Strings was founded in 1990 by violinist Laurits Th. Larsen. Based in Sønderborg, Denmark, the company produces high-quality strings for viola, violin, and cello, which are currently sold in over 40 countries globally. Here at The Violin Channel, we look forward to our collaboration with Larsen Strings as a new VC Gold Partner. 
Larsen is succeeded by Thomas Petersen as company CEO, who holds many years of management experience through internationally oriented production companies. 
While he retires his post, Larsen will remain both owner and board member of the company and will continue to contribute to Larsen Strings' creative process and product development for many years to come.
"Now is the right time. I feel it. There are so many other things I want to do," Larsen said after 32 years of leading the company himself. "I had never really dreamt of becoming a director. I have always been driven by my passion for music and technology and I am both happy and so proud that we have come as far as we have."  
Learning the violin at age 11, Mr. Larsen attended the Danish National Academy of Music and won a Danish Jacob Gade Foundation grant in 1975 for his playing. Traveling to the U.S. for further study, he later joined the South Denmark Philharmonic, which, alongside the Kronberg Academy, is now a Larsen Strings partner.
Larsen Strings began in 1990 when Mr. Larsen decided to try to make his own instrument strings. He started producing strings in his home garage using tools that were more than a hundred years old. At that time, he received a request for 300 cello strings for an American colleague.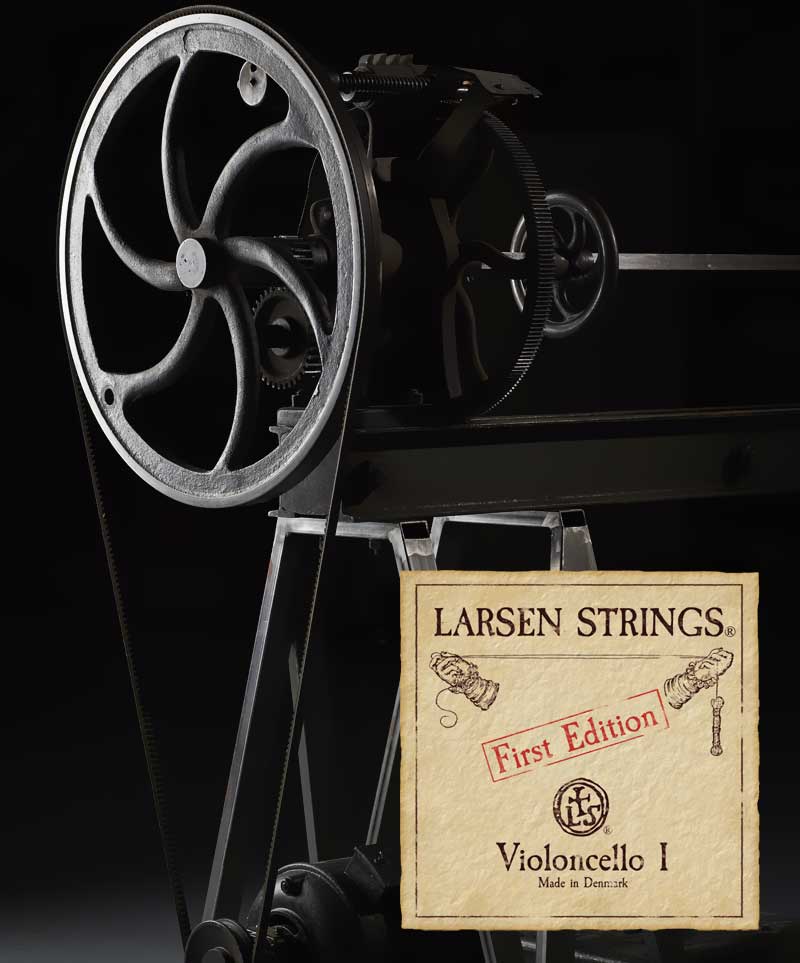 After 18 months of effort, a newly developed cello A-string was created. Tried by his Danish and German colleagues at the time, the string's popularity grew, as did the company, when waiting lists for Larsen's strings expanded. Additionally, Larsen's interest in science led him to create new high-tech production methods for his strings. 
Today, Larsen Strings has advanced automatic production of a range of strings that are played and reviewed by many professional musicians around the world including Sheku Kanneh-Mason, Johannes Moser, as well as currently featured Larsen Performing Artist Anne Akiko Meyers, whose revered 1741 "Ex-Vieuxtemps" Guarneri del Gesu violin "is very happy with the Larsen Solo Il Cannone strings."
"I leave an exceedingly healthy business to new leadership and now will prioritize spending more time on music, art, and culture and yet still be involved in what I think is the most interesting part which is product development," Larsen said. "I very much look forward to this."
"I have to fill some big shoes — but I'm really looking forward to getting started," said Petersen. "It is my clear ambition to steer Larsen Strings in the spirit in which it was created. We are solid both in terms of finances and values – and that is the starting point which we need to further develop and find new opportunities in the future." 
"With Thomas Petersen, we have found a very competent leader to continue Larsen Strings…We have a very strong team. We have what we need to go out and expand across even more of the musical world in the coming years," added Chairman of the Board, Theiss Stenstrøm.