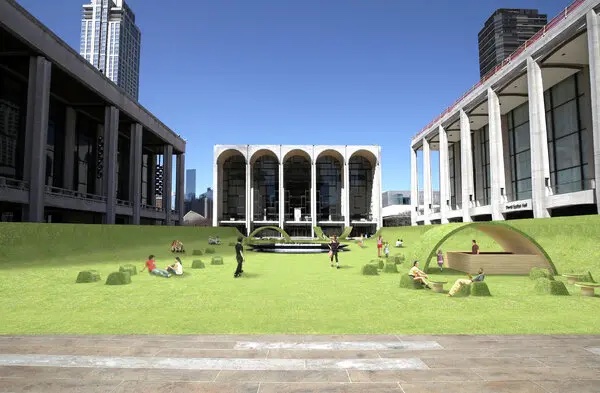 "The GREEN" will be a 14,000 square foot park made of bio-based grass that covers the original concrete ground, creating a welcoming and relaxing area in the middle of busy Manhattan.
The park is part of the "Restart Stages" plan in which Lincoln Center will host up to 10 outdoor performances and rehearsals to support the city-wide arts sector, NY PopsUp. The intention is to permeate the area with music and to create a communal atmosphere for New Yorkers.
Opening May 10, "The GREEN" is designed so that people with different levels of mobility can access the space.
Along with performances programmed by the Chamber Music Society, Film at Lincoln Center, New York City Ballet, and more, a snack and drink bar will be available to foster an ever-more lively outdoor park and venue. Books will also be available for borrowing provided by the New York Public Library for the Performing Arts.
The set designer, Mimi Lien, expresses her purpose and excitement for this project. "I wanted to make a place where you could lie on a grassy slope and read a book all afternoon," she said. "A town green — a place to gather, a common ground. When invited to consider how the physical space of Josie Robertson Plaza could be re-envisioned to be a more inclusive and inviting environment, I immediately thought that by changing the ground surface from hard paving stones with no seating to a material like grass, suddenly anyone would be able to sit anywhere," said Mimi Lien.