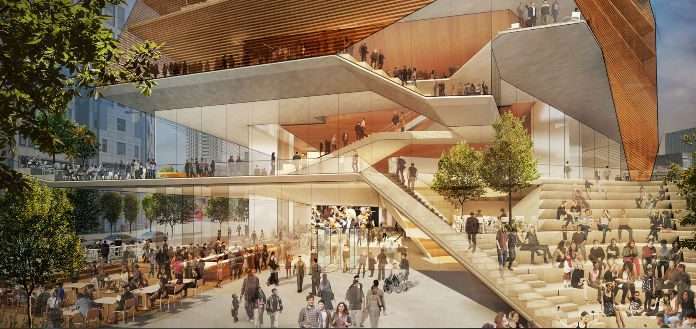 Design plans have this week been unveiled in London for a proposed new 2,000-seat 'Centre of Music' concert hall - set upon completion to become the new permanent home of the London Symphony Orchestra.
The concept, proposed to be built on the site of the Museum of London, includes a pedestrian plaza, foyer, commercial space, restaurants - and a number of 'acoustically perfect' performance spaces.
"The idea that there can be a new cultural centre in London, in Culture Mile, and that in the middle of it a truly great international, modern concert hall of our time, equipped for everything of this age, is very exciting," London Symphony Music Director, Sir Simon Rattle has said.
"The design is transparent, porous and welcoming – basically, everything that the north entrance to the Barbican is not ..." architect Elizabeth Diller from Diller Scofidio + Rentro has said.
"There are so many gestures to exterior life ... with or without a ticket, it's a place to be, a place to share ideas and music," she has said.
Diller Scofidio + Rentro's previous cultural projects include New York's Juilliard School and the Lincoln Centre for the Performing Arts, Los Angeles' Broad Art Museum and Boston's Institute of Contemporary Art.
It's estimated it will cost £288 million for the cultural center to be completed - which is currently being raised via private donations.