Los Angeles Orchestra Fellowship Announces 2020 Recipients
Founded in 2018 and awarded annually, the program gives fellowships to four orchestral post-graduate musicians from the Black, Indigenous, and People of Color (BIPOC) communities, who show exemplary promise for a career in music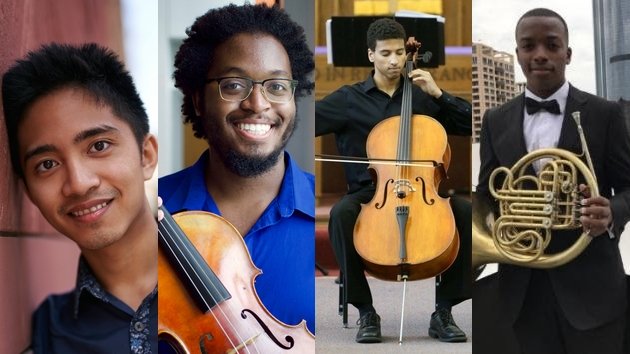 This week, the Los Angeles Orchestra Fellowship announced its four 2020 recipients.
In partnership with the Los Angeles Chamber Orchestra, the Inner-City Youth Orchestra of Los Angeles, and University of Southern California's Thornton School of Music, each musician will receive teaching and performing opportunities in addition to a Graduate Certificate from the University of Southern California.
The 2020-2023 fellows are:
Violist Wilfred Farquharson
Hornist Malik Taylor
Cellist Myles Yeazell
Violist Jay Julio Laureta 
"The joy I feel comes from the friends, family, and teachers who are so happy and proud of me for receiving this fellowship," said Wilfred Farquharson.
"I am reminded that I benefit from all the efforts of my Black predecessors that paved the way for me to even have had the opportunity to audition for something like this; I am my ancestors' wildest dream come true."
"How quickly so many organizations/institutions in the classical music industry have changed to be more diverse this summer really shows this progress has been possible all along. What will cement these changes as the new foundation for further progress are more inclusive initiatives throughout the industry, such as having more Black and Brown people in upper administration, on every committee within, as leaders of, and performing in these institutions/organizations in addition to increasingly and consistently programming music of Black and Brown composers." he said.
"With this great opportunity, I look forward to helping the community and receive the immense training that could help me and the other fellows win a position in a major symphony orchestra," Malik Taylor said.
"I would love to see more Orchestra concerts and music camps happening in low-income neighborhoods ... Many of the young musicians growing up in the inner-city neighborhoods do not have the funds to pursue a career in music. We can make a change."
"While one of the main goals of the fellowship may be to provide the resources and training necessary for the fellows to audition and ultimately win a job as a professional musician, I can tell from these first few weeks that this will have an everlasting effect on my life and career, and I am extremely grateful and proud to say I am a member of the LA Orchestra Fellowship," said Myles Yeazell.
"Classical music is usually portrayed as something for older generations or for richer families, but I think that, with the right affordable music education opportunities, classical music may see a steady increase in diversity as kids are exposed to the wonders of learning music and various instruments.  It is up to us to spread the word!"
"Filipino people are the second-largest Asian population in the US and I can count on one hand the amount of Filipino musicians I know in professional orchestras. As the child of a nurse's assistant, it is both a privilege and a duty to represent Filipinos as artists after centuries of struggle and oppression and, more personally, in solidarity with other Black and brown people who I join in the history of this fellowship," said Jay Julio Laureta.
"To be frank, if we intend the field of classical music to be as equitable as we claim, we need equal access to high-quality education, instruments, and teachers from the earliest days in a child's life. Until such a time comes, we all must pitch in — audience members and musicians who have resources, donating time to tutor students who cannot afford lessons, actively reaching out to public school programs to fund music programs cut by austerity budgets, and donating both to large organizations that do justice-minded work and to individual musicians-in-training who need an extra push of financial support to make it to the next level."