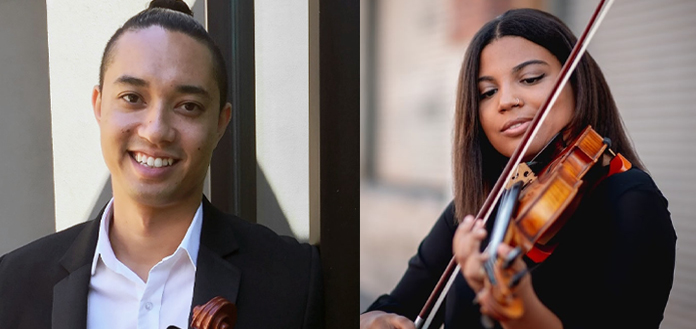 Launched in 2018/19, the initiative aims to create more diverse, inclusive orchestras and prepare young musicians to compete and win positions in professional orchestras.
Fellows get the opportunity to play with the Los Angeles Philharmonic for up to three years. LA Phil musicians also serve as mentors to the fellows, giving advice and assistance on audition preparation and career development.
A graduate of USC's Thorton School of Music, Adedamola has served in the second violin section of the Seattle Symphony. She has also performed with the Pacific Symphony, Kansas City Symphony, Los Angeles Chamber Orchestra, and the New World Symphony.
A graduate of Chapman University, Cleveland Institute of Music, and the University of Miami, Threadgill became a viola fellow with the New World Symphony. He has worked under conductors Michael Tilson Thomas, Paavo Järvi, Fabio Luisi, and Esa-Pekka Salonen and served as the principal violist of the Canton Symphony Orchestra
The two fellows will gain experience and opportunity through orchestral, chamber, new music, and education concerts, performing at Walt Disney Concert Hall and the Hollywood Bowl.