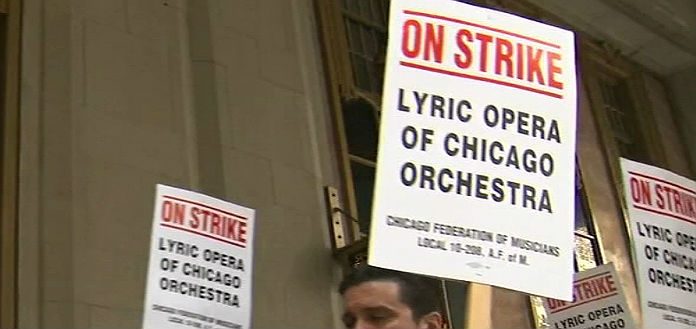 It has been announced today that the Lyric Opera of Chicago has been shut down from an industrial strike - following the breakdown of prolonged negotiations between the house's management and orchestral musicians.
It is understood the orchestra's union is protesting the elimination of 5 full-time positions from the ensemble, a cut in season working weeks from 24 and 22 - plus an overall 8% decrease in the musician's annual salary.
"We apologize for the inconvenience and losses this disruption creates for our patrons, donors, partners and other dedicated employees, and are doing everything possible to protect as much of our season ..." the Lyric Opera of Chicago has said in a statement.
"That said, Lyric simply cannot agree to the terms CFM demands, given our current financial circumstances ... our proposed changes are necessary to ensure Lyric's survival as a world-class opera company providing a diverse range of cultural entertainment to communities throughout Chicago."
The orchestra's union have made claims the Lyric Opera's overall operating budget has increased from $60.4 million in 2012 to $84.5 million in 2017.