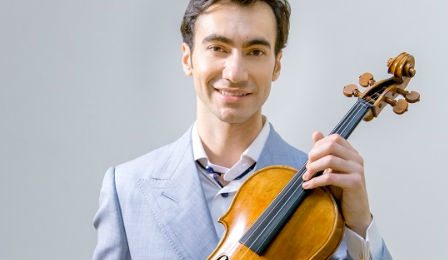 It has been announced that the 1719 'Macdonald' Stradivarius viola, believed to be the finest string instrument ever made, has gone on the market at offers over USD $45 Million.
One of only 10 violas Stradivarius made, it is to be sold via a sealed bidding process by auctioneers Sotheby's and Ingles & Hayday - with a sale to set a significant world record for any musical instrument ever sold.
'It is immaculately preserved. No Stradivari viola has been on the market for the last fifty years so this is truly a once-in-a-lifetime opportunity,' Tim Ingles, Director of Ingles & Hayday has said.
[video_lightbox_youtube video_id="iwbZLx3hLws" width="590" height="385" auto_thumb="1"]1719 'MacDonald' Stradivari | David Aaron Carpenter | Albeniz | Asturias | Sotheby's New York
Named after the third Baron Macdonald, who bought the instrument in the 1820s, other significant owners include J.B. Vuillaume, John Betts, W.E. Hill & Sons - and Amadeus Quartet violist Peter Schidlof.
The viola will be showcased at Sotheby's Paris on April 15th with a special recital performance by VC 'Young Artist', violist David Aaron Carpenter.
The 27 year old viola virtuoso has described the instrument as: "Perfect. It's a perfect viola. From both a musician's and a collector's perspective, the MacDonald Stradivari is a legendary instrument and it embodies true perfection in terms of how a viola should both look and sound. It is in almost perfect condition and the experience of playing it takes your breath away."
Industry experts predict a sale of this magnitude is likely to significantly shift the entire global market for musical instruments.