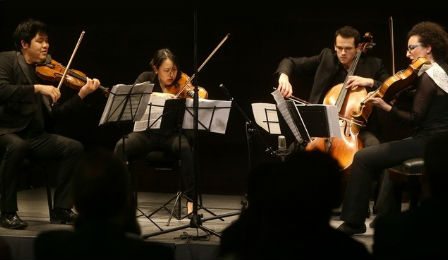 The finalists have today been announced at the 2015 Melbourne International Chamber Music Competition, in Melbourne, Australia.
The 2015 String Quartet Finalists are:
Noga Quartet (France, Israel)
Verona Quartet (USA/Singapore/Canada)
Giocoso Quartet (Germany, Romania, Netherlands)
The 2015 Piano Trio Finalists are:
Trio Adorno (Germany)
Trio Medici (France, Russia)
Linos Piano Trio (Thailand, UK, Brazil, Germany, France)
The final round will be held on the 18th of July, with the 1st placed quartet and trio to receive AUD $24,000 and $18,000.
This year's jury comprises violinists Martin Beaver, Berit Cardas, Boris Kuschnir, Irina Morozova, cellists Vladimir Balshin and Howard Penny and pianist Bright Sheng.
PICTURED: 2015 Melbourne International Chamber Music Competition Finalists, the Verona String Quartet