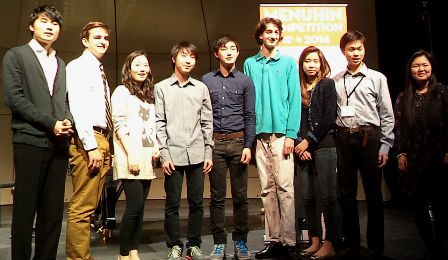 The 9 Senior Semi-Finalists for the 2014 Menuhin Competition, in Austin USA, have just minutes ago been announced - including  VC 'Young Artists' Timothy Chooi, William Hagen, Zeyu Victor Li and Stephen Waarts.
The 2014 Semi-Finalists are: Minami Yoshida (15, Japan), Timothy Chooi (20, Canada), Christine Seohyun Lim (19, United States/South Korea), Stephen Waarts (17, United States/Holland), Zeyu Victor Li (17, China), Stephen Kim (18, United States), Ji-Wong Song (21, Korea), William Hagen (21, United States) & In Mo Yang (18, South Korea)
The Senior competition's Semi-Final will be held on Wednesday 26th February - with the Final to take place on Saturday 1st March.
For the Semi-Final round, each candidate will perform a virtuosic work of their choice, the 1st violin part of a Haydn String Quartet with members of the Miro Quartet - plus a newly commissioned solo work by American composer Donald Grantham.
The Senior 1st prize winner will receive US $10,000 - and the 1-year loan of a fine Italian instrument courtesy of Christophe Landon Rare Violins.
The Violin Channel will be providing extensive real-time coverage of this year's event.