VC WEB BLOG | Anne Rodda - 'Hosting a Fair International Violin Comp' [BLOG]
Michael Hill International Violin Competition Executive Director, Anne Rodda talks us through the essential elements for hosting a fair competition
The Violin Channel recently caught up with Michael Hill International Violin Competition Executive Director, Ms Anne Rodda.
In a VC-exclusive blog, Anne talks us through the essential elements for hosting a fair international string competition.
"It's very flattering to have been asked what makes competitions fair, and whilst I'm aware that The Michael Hill has a reputation for this, I'm not sure how comfortable I am being an 'authority' on the colossal topic of impartiality at competitions – I have huge respect for our colleagues in the World Federation of International Music Competitions and elsewhere and know this is a priority for all competitions, so I can only credibly answer this question by sharing the actions, both conscious and unconscious, the Michael Hill International Violin Competition has taken.
Judges: When considering who to ask to serve on our selection and international panels, we consciously invite artists who are not only esteemed violinists, but of equal importance, artists with humanity and humility. We avoid violinists who put their egos above the role. We aim to have a well-balanced jury that represents not only a variety of nationalities, gender and ages, but schools of violin training and career pathways. I acknowledge and thank our Artistic Adviser, Dene Olding, for his thoughtful assistance with this key activity.
Voting: Before our start in 2001, I canvassed dozens of artists to probe their experience with voting procedures – what systems they loved and hated. I can't exactly remember from where our voting procedures originated but they have served us well. Instead of attributing points, each judge uses his or her own method to identify and rank their top competitors, and when they vote for their top choice it takes a majority (at least 4 of 7 judges) to advance a violinist. Early on we engaged a statistician to review our procedures for verification, and consistent judges' feedback is that the "Michael Hill Method" is their preferred system, so these we consider quality endorsements. Like many other competitions, our judges do not confer; they are not allowed to discuss the competitors or performances and they cast their votes anonymously – the result is that the judges feel empowered and there is an affirming accord in a majority decision. It is not possible to sway nor prejudice an outcome. We are honoured that other competitions have now adopted the Michael Hill Method and are similarly finding success with it.
We have been exercising our minds about how the panel members can preserve their utter impartiality in the selection round yet select the violinists who have the greatest aptitude to eventually have a remarkable career. We all know a taped round, for a sitting panel, is still the most practical and trusted audition tool that our industry has, but at the end of the day we want to identify musicians who have aptitude beyond the art of making an audition tape. We are happy with our solution and look forward to trialing it the end of this year.
So, these approaches to our judges and voting have been intentional efforts we have made to uphold the greatest sense of fair play, but I think there has to also be a nod to the fact we are a relatively new competition without much history nor subsequent ingrained tradition. Kiwis are proud pioneers and innovators and the Michael Hill is not apprehensive about making changes and improvements – it's part of our psyche. That we exist in New Zealand - a country that is fresh and renowned for its absence of corruption, must impact on our internalised cultural DNA. Many Kiwis immigrated from their homelands for a better, cleaner, life. "100% Pure New Zealand" is even our tourism slogan, so it is only natural for the Michael Hill to be founded on integrity and honour.
-Anne"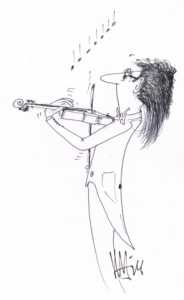 The Michael Hill International Violin Competition runs from June 2nd, 2017 to June 10th, 2017. Applications due on November 16th, 2016.