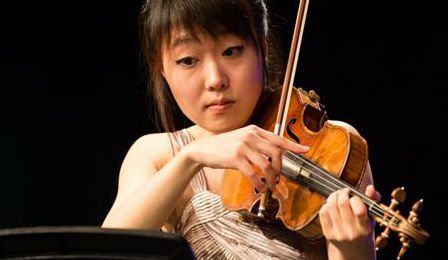 VC 'Young Artist' Suyeon Kang from Australia, has just minutes ago, been awarded 1st prize at the 2015 Michael Hill International Violin Competition, in Auckland, New Zealand.
2nd prize was awarded to Eunae Koh, from South Korea – and 3rd prize to VC 'Young Artist'  Timothy Chooi from Canada.
4th, 5th and 6th prizes were awarded to Natsumi Tsuboi from Japan, Elly Suh from the United States/South Korea and Marie-Christine Klettner from Austria.
Suyeon will receive NZ $40,000 (US $31,000), a recording contract on the Atoll label, an intensive New Zealand performance tour – and a personalised professional career development programme.
The NZ $2,000 prize for the best performance during the Chamber Music Round was awarded to Eunae Koh, from South Korea.
The audience prize, a watch courtesy of Michael Hill International was awarded to Suyeon Kang.