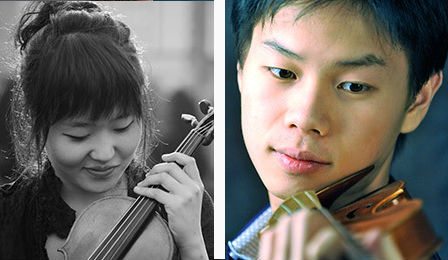 The six Round 3 Semi-Finalists, have just minutes ago, been announced at the 2015 Michael Hill International Violin Competition, in Queenstown, New Zealand – including 2 VC 'Young Artists'.
This year's Semi-Finalists are:
VC 'Young Artist' Timothy Chooi from Canada
VC 'Young Artist' Suyeon Kang from Australia
Marie-Christine Klettner from Austria
Natsumi Tsuboi from Japan/USA
Eunae Koh from South Korea
Elly Suh from the United States/South Korea
Jung Min Choi from South Korea was awarded the NZ $2000 cash prize for best performance of the New Zealand commissioned work.
For the Semi-Final Round 3, each of the 6 candidates will present a Beethoven Piano Trio - with 3 candidates to progress to the Final round on June 13th at the Auckland Town Hall.
The 2015 winner will receive NZ $40,000 (US $31,000), a recording contract, an intensive New Zealand performance tour – and a personalised professional career development programme.
Live webstreaming of the Semi Final and Final rounds will be available on The Violin Channel at: http://bit.ly/1G0y9Eo
The Violin Channel will be reporting live from the Queenstown Memorial Centre and the Auckland Town Hall.
You won't miss a beat!
PICTURED: 2015 Michael Hill International Violin Competition Semi-Finalists, VC 'Young Artist' Suyeon Kang from Australia and Timothy Chooi from Canada