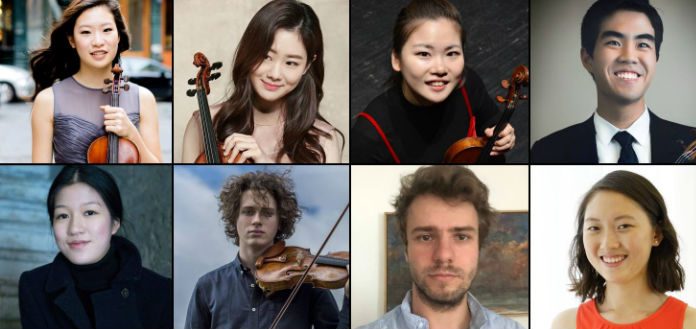 The 16 candidates have today been announced for the 2019 Michael Hill International Violin Competition – to be held in Queenstown and Auckland, New Zealand from the 31st of May to the 8th of June, 2019.
The 2019 Quarter Finalists are:
VC Young Artist Ji Won Song (South Korea)
Jacqueline Audas (USA)
Rimma Benyumova (Russia)
Jevgēnijs Čepoveckis (Latvia)
Angela Sin Ying Chan (China)
Hannah Cho (USA)
Do Gyung Anna Im (South Korea)
Shannon Lee (USA) 
Tianyu Liu (China) 
Ashley Park (USA)
Yun Tang (China)
Eric Tsai (USA)
Sophie Wang (Taiwan)
Harry Ward (Australia) 
Matthias Well (Germany)
Victoria Wong (Australia)
Open to international violinists aged 18 to 28 years old, the 1st prize winner will receive NZ $40,000 (USD $26,000), a recording on the Atoll label, a personalised professional development package, winners' tour – plus a custom-designed gown or suit and diamond pendant designed by Christine Hill.
"The selection panel were hugely impressed by the high standard of entries this year … there is a growing number of international competitions for young violinists, yet the pool doesn't seem to be getting diluted in any way …" Competition Executive Director, Anne Rodda has told The Violin Channel.
"We are delighted so many of the world's best young violinists can make it to New Zealand next year … and, because of New Zealand's excellent reputation among international musicians, so are the competitors," she has said.
The 2019 jury will comprise: Robin Congreve (Chairman), Dale Barltrop, James Ehnes, Mauricio Fuks, Clara-Jumi Kang, Anthony Marwood, Wilma Smith and Ning Feng.
Held biennially, previous Michael Hill International Violin Competition 1st prize winners VC Artists Nikki Chooi, Josef Spacek, Bella Hristova, Sergey Malov, Ioana Cristina Goicea and Suyeon Kang.
As the competition's official 2019 international media and online broadcast partner, The Violin Channel will be providing exclusive rolling-coverage – live from all venues.
Comments
comments