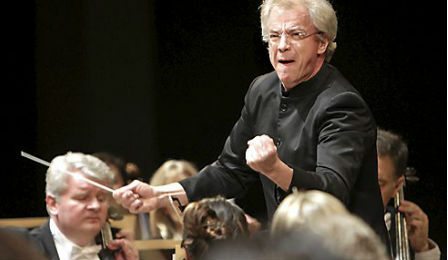 After resolving its bitter lockout just two weeks ago, the Minnesota Orchestra finally has reason to smile - yesterday awarded a Grammy Award for 'Best Orchestral Performance' for their recording of Sibelius' 1st and 4th Symphonies with Former Music Director, Osmo Vanska.
The album is the second in a planned series devoted to all seven Sibelius Symphonies – with the first having garnered the orchestra a Grammy nomination in this same category last year.
The orchestra will resume work next week after the 16-month stop work - with the the future of Vanska however still uncertain after his resignation was tendered on October 1st.
Other winners include percussionist Evelyn Glennie and conductor David Alan Miller for their recording of John Corigliano's 'Conjurer - Concerto for Percussionist & String Orchestra'
Grammy Award for Best Orchestral Performance
Osmo Vänskä (conductor), Minnesota Orchestra for Sibelius: Symphonies Nos. 1 & 4
Grammy Award for Best Classical Instrumental Solo
Evelyn Glennie (soloist), David Alan Miller (conductor) for Corigliano: Conjurer - Concerto for Percussionist & String Orchestra
Grammy Award for Best Choral Performance
Tõnu Kaljuste (conductor) for Pärt: Adam's Lament (with Tui Hirv & Rainer Vilu; Estonian Philharmonic Chamber Choir; Sinfonietta Riga & Tallinn Chamber Orchestra; Latvian Radio Choir & Vox Clamantis)
Grammy Award for Best Classical Contemporary Composition
Maria Schneider for Winter Morning Walks
Grammy Award for Best Classical Vocal Solo
Dawn Upshaw for Winter Morning Walks
Grammy Award for Best Engineered Album, Classical
David Frost, Brian Losch & Tim Martyn (engineers); Tim Martyn (mastering engineer) for Winter Morning Walks, performed by Dawn Upshaw, Maria Schneider, the Australian Chamber Orchestra & the St. Paul Chamber Orchestra
Grammy Award for Best Small Ensemble Performance
Brad Wells & Roomful of Teeth for Roomful of Teeth
Grammy Award for Producer of the Year, Classical
Grammy Award for Best Opera Recording
Thomas Adès (conductor); Simon Keenlyside, Isabel Leonard, Audrey Luna, Alan Oke (soloists); Jay David Saks (producer) for Adès: The Tempest