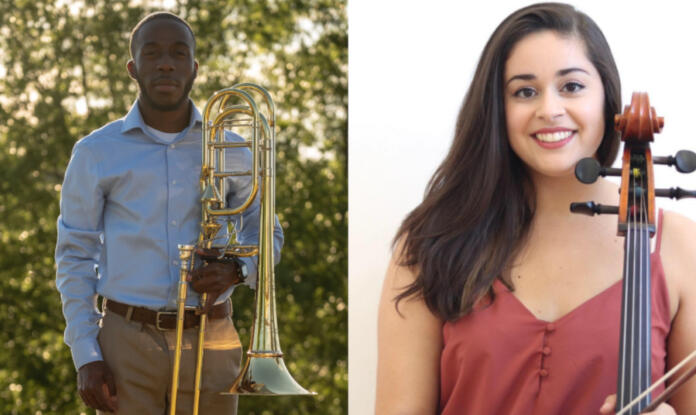 Founded in 2017, the two-year fellowship aims to support diversity in the orchestral field through mentorship, coaching, and professional experience for artists of African American, Latin American, and Native American descent.
Esther Seitz and Lovrick Gary will begin their appointments in September, through which they will observe and participate in rehearsals, perform with the orchestra in selected concerts, study with orchestral musicians, and train for auditions. The fellows also work with Minnesota students on educational and community engagement initiatives.
Members of the audition committee wrote with excitement about Seitz's and Gary's appointments. Cellist Pitnarry Shin wrote that she was inspired by Seitz's "musicianship and infectious enthusiasm," and bass trombone player Andrew Chappell said that Gary is a "talented musician who will bring his warm and beautiful sound to the orchestra."
Gary, an Atlanta native, began his musical studies with Nathan Zgonc and Brian Hecht through the Atlanta Symphony Orchestra's Talent Development Program and went on to earn a degree from the Schwob School of Music at Columbus State University, where he studied with Bradley Palmer. Gary has twice been a finalist in the American Trombone Workshop National Solo Competition and performed concerts with the Atlanta Symphony. He currently serves as the Trombone and Bass Trombone Teaching Artist with the Atlanta Music Project.
A graduate of the Manhattan School of Music and University of Missouri-Kansas City Conservatory of Music and Dance, Seitz has studied with Julia Lichten, Michael Mermagen, Mark Gibbs, and Carter Enyeart. She is a founding member of the Bowery Trio — which aims to increase the accessibility of music by promoting "lesser-known works by composers of all races, ethnicities, and gender identities" and has been awarded a Chamber Music America Ensemble Forward Grant. Seitz is also Director of Strings Programs of the Puerto Rico Summer Music Festival, which creates musical opportunities for Latin American musicians.
Seitz and Gary are the fifth and sixth-ever recipients of the Rosemary and David Good Fellowship, which is sponsored by a gift from Rosemary and David Good.