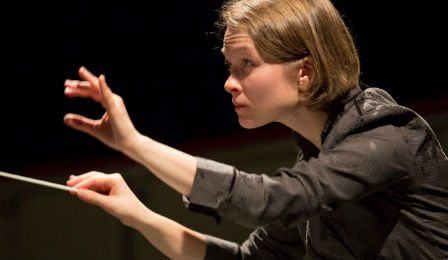 The City of Birmingham Symphony Orchestra has today announced the appointment of 29 year old Lithuanian conductor, Mirga Gražinytė-Tyla as their new Music Director - effective from September 2016.
"Following an extensive search process led by a committee made up of CBSO musicians, board members and management, and with strong support from Orchestra and audience alike, a unanimous decision was made by the board of trustees to invite Gražinytė-Tyla to be the CBSO's next Music Director," the orchestra's Chief Executive, Stephen Maddock has said.
A graduate of the Graz University of Music, the Zurich Conservatory and the Bologna Conservatory, Mirga currently serves as Associate Conductor with the Los Angeles Philharmonic and Music Director of the Salzburg Landestheater.
'I am personally delighted that Mirga has made such a strong connection with the musicians in Birmingham. She is an amazing artist, and we've been lucky to have her in Los Angeles. I know that she and this Orchestra are going to do great things together,' Maestro Gustavo Dudamel has said.
Previous City of Birmingham Symphony Orchestra Music Directors include: Sir Simon Rattle (1980-1998), Sakari Oramo (1998-2008) and Andris Nelsons (2008-2015).