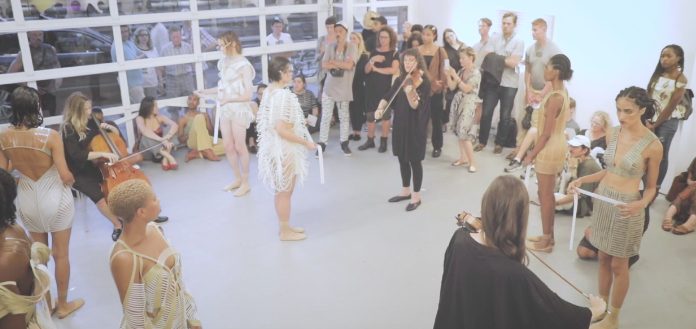 The world premiere performance of Los Angeles-based violist and composer Morgan Gerstmar's 'In Seconds, then Beats' for string quartet.
The 12 minute work was composed as part of the collaborative art, fashion and music exhibition, 'Strands' at this year's New York Fashion Week Spring/Summer '19 - by American interdisciplinary designer and visual artist Lauren Dreier.
"The work flowed from Lauren's overarching concept for the presentation ... that, that everything in the world is connected by strands of material ..." Morgan has told The Violin Channel.
"In creating the work, I took great inspiration from Avo Pärt and from avant-garde minimalist Terry Riley ... I wanted the music to have its own contemplative and mediative feel and yet reflect this notion of clothing being stretched," the California Institute of Arts and University of Southern California graduate has said.
The experimental work calls for the models to direct the performers to generate sound - thus creating a distinctive timestamp to each performance.
Recorded live on September 6, 2018 - at New York's 198 Allen.
MORGAN GERSTMAR | "IN SECONDS, THEN BEATS" | LAUREN DREIER, MOLLY GERMER, MORGAN GERSTMAR & THEA MESIROW | NEW YORK FASHION WEEK