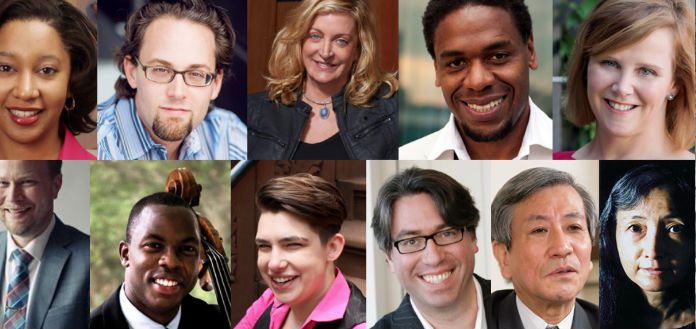 Musical America Worldwide, in New York, has this week announced the Musical America 30 2018 Professionals of the Year - honored this year for innovation, independent thinking and entrepreneurism.
"These are the heroes, sung and heretofore unsung, of the performing arts industry …" Musical America Publisher Stephanie Challener has said.
"What is striking about these individuals is their passion, creativity and dedication to making the arts thrive … these are the folks who make the industry tick, brainstorm the new ideas, get the artists on stage, help build the audiences and train the artists of tomorrow," she has said.
The 2018 Musical America 30 Professionals of the Year are:
Yamaha Artist Services New York Director, Bonnie Barrett
University of Miami Frost School of Music Dean, Shelly Berg
nkoda Founder and CEO, Lorenzo Brewer
Chicago Opera Theater Director of Education, Linden Christ
El Sistema USA and Reach*Teach*Play Director, Christine Taylor Conda
Philadelphia Orchestra Assistant Principal Bass and Project 440 Executive Director, Joseph Conyers
Crescendo Detroit CEO, Damien Crutcher
Interlochen Center for the Arts President, Trey Devey
On Site Opera Artistic Director, Eric Einhorn
American Composers Orchestra Director, Aiden Kim Feltkamp
Gabriela Lena Frank Creative Academy of Music Founder, Gabriela Lena Frank
Orcas Island Chamber Music Festival Founder, Aloysia Friedmann
Tour Manager, Heather Gladstein
River City Brass Music Director, James Gourlay
Las Vegas Philharmonic Executive Director, Lacey Huszcza
Philadelphia Jazz Project Director, Homer Jackson
Salem College Piano Professor, Barbara Lister-Sink
Composer, Pianist and Professor, Evan Mack
WQXR Radio Evening Host, Terrance McKnight
Music From Japan Executive Director, Naoyuki Miura
Robert McDuffie Center for Strings Director, Amy Schwartz Moretti 
Atlanta Music Project Founder and Executive Director, Dantes Rameau
Detroit Symphony Orchestra General Manager, Erik Rönmark
New World Symphony Director of Video Production, Clyde Scott
Concert Artists Guild Senior Vice President, Steve Shaiman
Bucklesweet President, Amanda Sweet
Nashville Symphony CEO, Alan Valentine
Sphinx Organization Senior Director of Arts Leadership, Abigayl Venman
Trinity Wall Street Director Music and Arts, Julian Wachner
Community Music Center of Boston Executive Director, Lecolion Washington
Founded in 1889, Musical America is America's oldest classical music publication.