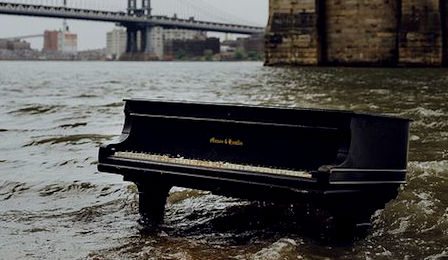 A submerged grand piano has mysteriously appeared this week in New York's East River – on the shore of Manhattan.
The Mason & Hamlin piano, fully exposed during low tide, has surfaced under the Brooklyn Bridge - yet so far no one appears completely sure where it has come from nor why.
A wide array of theorems are circulating - ranging from it being a planted art installation, to the instrument having fallen from a transportation truck.
One thing is sure though, it has certainly got New Yorkers talking - with 1000s of photos and videos now circulating social media.
[video_lightbox_youtube video_id="4OQ2NxGKckM" width="590" height="385" auto_thumb="1"]
GRAND PIANO | NEW YORK'S EAST RIVER | HLN WEEKEND EXPRESS