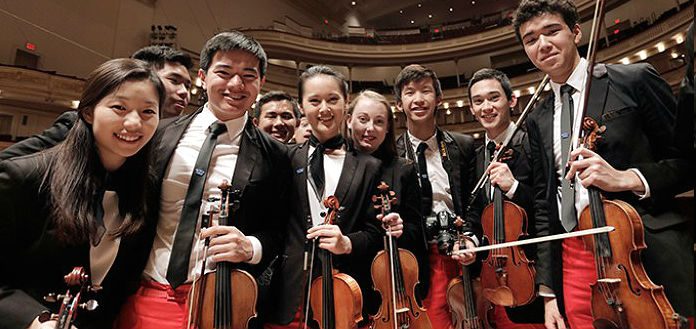 New York's Carnegie Hall has this week announced the 106 young musicians selected to take part in the sixth annual 2018 National Youth Orchestra of the United States of America.
The 2018 members, all aged between 16 and 19, will come together for a three-week training residency in July, in New York, before embarking on an international tour with conductor Michael Tilson Thomas - including performances at Carnegie Hall and in Taipei, Shanghai, Beijing, Seoul and Daejeon.
"The musicians who make up NYO-USA's 2018 roster are among the very best players in the country …" Carnegie Hall Executive and Artistic Director, Clive Gillinson has said.
"This promises to be an unforgettable summer of new discoveries for them ... offering opportunities to present extraordinary performances around the world … and to serve as wonderful musical ambassadors for their country," he has said.
The 2018 National Youth Orchestra members are:
Fiyifolu Adebekun, Violin

Alexander Mayer, Oboe

Joshua Chiang, Cello

Jeremy Davis, Timpani/Percussion

Khoi Dinh, Flute

Erica Yeawon Hwang, Violin

Annie SeEun Hyung, Cello

Sofia Matthews, Violin

Ethan Moffitt, Bass

Javier Morales-Martinez, Clarinet

Julian Seney, Viola

Clare Phelps, Horn

Kate Wegener, Oboe

Florida Nicholas Abrahams, Violin

Anabel Carvajal, Violin

Julian Gonzalez, Bassoon

Matthew Hakkarainen, Violin

Alex Koller, Viola

Kofi Kwapong, Clarinet

Charlotte Loukola, Violin

Megan Savage, Cello

Jakob Schoenfeld, Timpani/Percussion

Anabel Tejeda, Viola

Cameren Anai Williams, Viola

Sophia Yiwen Zheng, Violin

Georgia Elise Arancio, Apprentice Composer

Julia Su, Violin

Alisha Zamore, Clarinet

Nick Jack Agliata III, Apprentice Orchestra Librarian

Haddon Kay, Cello

Megan Martin, Trombone

Samuel Stout, Trumpet

Quincey Trojanowski, Bassoon

Iowa Hannah Duncan, Violin

Ryan Jeong, Violin

Brandon Aponte, Violin

Maryland Vincent Igusa, Bassoon

Kara Poling, Oboe

Wilson Hsu, Viola

Richard Kaminuma, Apprentice Conductor

Eric Zaks, Cello

Amelia Abouljoud, Viola

Elizabeth Nguyen, Viola

Antonio Jarvey, Apprentice Orchestra Manager

Jordan Farber, Bassoon

Roric Cunningham, Cello

Simon Herron, Timpani/Percussion

Clara Bouch, Viola

Juliette Duguid, Viola

Kingston Ho, Violin

Faustina Housner, Violin

Simon Housner, Cello

Alyssa Kim, Violin

Robin Park, Cello

David Stein, Tuba

Justin Zeitlinger, Apprentice Composer

Remi Beltran, Trumpet

Claire Cai, Violin

Ryan Chung, Cello

Epongue Ekille, Violin

August Haller, Horn

Alexandra Hong, Viola

Brian Isaacs, Viola

Christina Morris, Apprentice Conductor

Rohun Rajpal, Violin

Adrian Rogers, Violin

William Swett, Bass

Annalisa Welinder, Violin

Quenton Xavier Blache, Cello

Drew Dansby, Violin

Ella Sharpe, Bass

Mitchell Ballester, Bass

Lindsey Wong, Flute

Simon Luke Brown, Violin

Akili Farrow, Violin

Rachel Martin, Bass

Johnny May, Violin

Noah Stein, Trombone

Alexander Wu, Cello

Javier Fernando Torres-Delgado, Violin

Will Harris, Timpani/Percussion

Sam Parrini, Violin

Kevin Bai, Violin

Nathan Cloeter, Horn

Shania Cordoba, Trumpet

Peter Davies, Oboe

Matthew Garcia, Viola

Diego Garza-Romero, Bass

Jonathan Jalbert, Clarinet

Yong Ha Jung, Viola

Pablo Kennedy, Bass

Haeun Moon, Violin

Scott Sanders, Horn

David Schonberger, Bass Trombone

Alyssa Tinsley, Flute

Jason Wang, Violin

Sophie Choate, Viola

Dimitrios Mattas, Bass

Andrew Gantzer, Bass

Forrest Johnston, Trumpet

Gaby Pho, Horn

Symphony Koss, Violin

Kristy Park, Cello

Phoebe Rawn, Flute

Devin Lai, Violin

Arianna Brusubardis, Violin