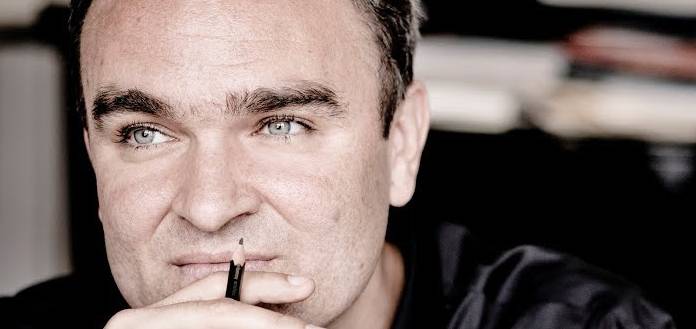 Violinists Anne-Sophie Mutter and Ye-Eun Choi, violist Vladimir Babeshko and cellist Daniel Muller-Schott rehearsing prior to this week's world premiere performance of German composer Jörg Widmann's String Quartet No. 6 'Study on Beethoven'.
Recorded live at Suntory Hall, in Tokyo – on the 22nd of February, 2020.
"I was so moved when Anne-Sophie Mutter asked me to write a quartet for her and her colleagues, and having completed a whole cycle of five string quartets between 1997 and 2004, it has been so special for me to come back to this genre ..." Jörg has this week told The Violin Channel.
"It was very clear to me this time that I wanted to begin a new quartet cycle with a completely different sound to my previous works, so my 6th, 7th, 8th, 9th and 10th string quartets, which I have collectively called 'Study of Beethoven', have taken inspiration and a reinvention, deconstruction and distortion of Beethoven's Late Quartets ..." he has said.
"This 6th one-movement 30-minute quartet cuts continually between beautifully slow fragments to joyful dance-like music, in a way similarly to Beethoven himself does ... but I really wanted to exaggerate this - in an almost brutal way ... "
"To me this piece is very tonal, but without having any normal spacing of the chords ... and with Anne-Sophie's playing being so unique, especially in the stratospheric register of the violin, I wanted to really utilize this area of the violin just for her ..."
"Beethoven said about his 'Missa Solemnis': 'From my heart I may touch your heart' ... that too is my wish from this, my 6th String Quartet."
"We struggled at first with the complexity of this piece but worked very hard on it and it was such an exciting process to be in the Jörg Widmann world … " Anne-Sophie Mutter has this week told The Violin Channel.
"It's a dense, very poetic and so fabulously structured piece … there are so many details to this quartet yet still so much broadness of thought …" she has said.
"I feel the quartet is a constant struggle between light and dark … and the ending is not certainly going into the light - it leaves the question mark."
ANNE-SOPHIE MUTTER, YE-EUN CHOI, VLADIMIR BABESHKO & DANIEL MULLER-SCHOTT | JÖRG WIDMANN STRING QUARTET NO. 6 'STUDY ON BEETHOVEN' | WORLD PREMIERE REHEARSAL | EXCERPT | 2020
ANNE-SOPHIE MUTTER, YE-EUN CHOI, VLADIMIR BABESHKO & DANIEL MULLER-SCHOTT | JÖRG WIDMANN STRING QUARTET NO. 6 'STUDY ON BEETHOVEN' | WORLD PREMIERE REHEARSAL | EXCERPT | 2020