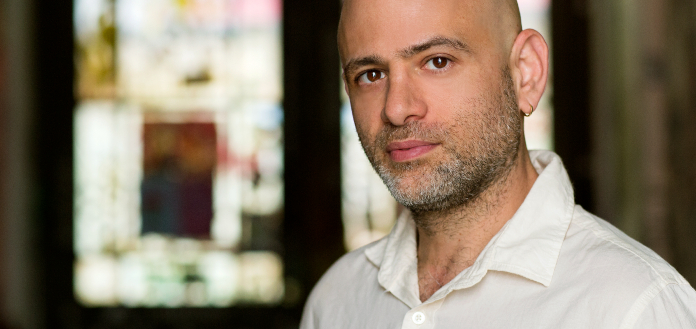 The Violin Channel recently discussed the piece with Israeli composer Ohad Ben-Ari.
"Apoplexy was commissioned by the Guadagnini Foundation for its first International Violin Competition," told The Violin Channel. "I chose to pay homage to a legendary Guadagnini owner and one of the greatest violinists-composers of all times, Eugène Ysaÿe. Albeit not a violinist myself, I grew up with a violinist sister, and the solo violin repertoire has always fascinated me. I recall the great impact Ysaÿe's music had on me when I first heard it. In tribute to this music, I integrated some of the techniques Ysaÿe had used in his writing.
"As an old and somewhat outdated medical term, apoplexy refers to the state of being drained out of life's force. Informally, however, it is used to describe fury, extreme anger. There is a dichotomy between the states, both of which are extremely dramatic, which I used as a basis for my composition. The music alternates between the two intense moods throughout the piece. My aim was to create a musical representation of these emotions by juxtaposing baroque playing gestures with contemporary ones and fusing classical violin writing with modern extended techniques.
"Since I am a pianist, I usually compose on the piano, but soon after commencing work on 'Apoplexy,' I realized that the piano was no help at all and that most of the work had to happen in my head. When I had a finished draft in my hands, I asked the First Concertmaster of the Berliner Philharmoniker, Noah Balgley-Bendix, to take a look at the score. I am very grateful for the opportunity to have someone like Noah go over the score with me. Noah's suggestions were tremendously helpful.
"Earlier this year in July, I took a train down to Stuttgart to watch 'Apoplexy' performed in the competition, where it was scheduled for the second round. It was a huge privilege to hear my music performed by nine fantastic violinists on a single day, something which I did not take for granted. I personally felt that the way Hana Chang interpreted my music was the closest to my vision of the piece, and I was very happy with the jury's decision to award Ms. Chang the special prize.
"After the competition, some participants contacted me. Some told me that when they first glanced at the score they thought it would be too much to study, but later they admitted it was quite playable, even enjoyable. Others said that they really loved the piece and that they'd like to include it in their future concert programs. As a composer, of course, this makes me very happy."
The piece is performed here by violinist Hannah Chang who received the second prize at the inaugural Stuttgart International Violin Competition as well as the special prize for the best performance of "Apoplexy."