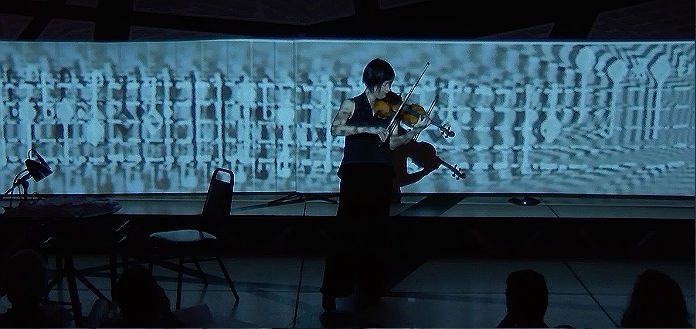 New York-based violinist Miranda Cuckson performing the world premiere performance of intermedia artist Katharina Rosenberger and projection designer John Burnett's Folds for Solo Violin and Electronics.
"John and I were inspired by paper ... its interesting physical and sonic properties ... and also its use throughout history in documenting music and ideas …" Katharina has told The Violin Channel.
"An array of paper objects and electroacoustic sounds drawn from these, along with John's video projections, bring the ephemeral nature of sounds and thought in dialogue with the tangible and various technologies," she has said.
"Folds is based upon the music of Barbara Strozzi's (1619-1677) 'Sino alla morte' …  Katarina composed an acoustic as well as electro-acoustic response … creating textural and contrapuntal silhouettes of Strozzi's rhythms and melodic outlines …" Miranda has told The Violin Channel.
"We hope Folds offers an enjoyably interesting experience, connecting the music of different eras through the voices of these two composers 400 years apart," she has said.
Recorded live on the 6th of January, 2019 - at National Sawdust, in Brooklyn, New York.
MIRANDA CUCKSON | KATHARINA ROSENBERGER & JOHN BURNETT | 'FOLDS' FOR SOLO VIOLIN AND ELECTRONICS | NATIONAL SAWDUST | 2018