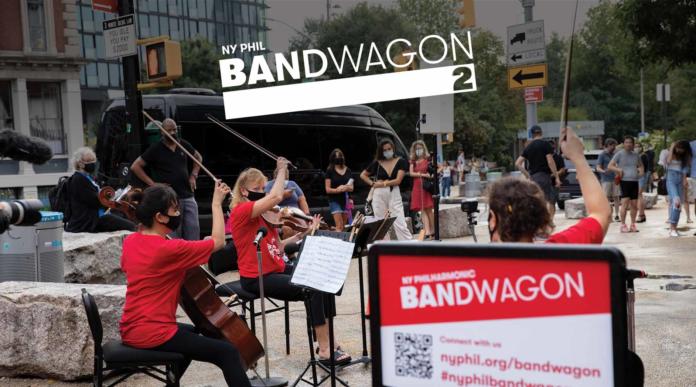 From May 7-30, The NY Phil Bandwagon 2 will present a series of four weekend-long festivals across New York City. The performances will all take place in a mobile 20-foot shipping container, and venues include Domino Park in Brooklyn, Marcus Garvey Park in Manhattan, Father Gigante Plaza in the Bronx, and St. Albans Park in Queens. Programs for each weekend are based on the different communities in which the concerts will take place, with artists and repertoire to be announced on a weekly basis.
The shipping container is customized to feature a foldout stage, a LED video wall, an advanced Meyer Sound Spacemap Go system, integrated lighting, and a video control system.
For this project, the Philharmonic partners with six New York institutions that aim to use art to inspire their communities. The organizations include A Better Jamaica, Casita Maria Center for Arts & Education, El Puente, Flushing Town Hall, Groundswell, and National Black Theatre.
"Emerging from this difficult period, we have to consider deeply what we have learned and what we want to change," said Deborah Borda, President and CEO of the New York Philharmonic. "Last summer's 81 Bandwagon concerts were a beacon for us — the beginning of a dialogue. We want to take that crucial work of partnership, in all its forms, even further. Bandwagon 2 allows us to center the voices of our partners, and utilize the Philharmonic's resources to amplify the work of our collaborators. Fundamentally, it's an opportunity to make joy with our community."