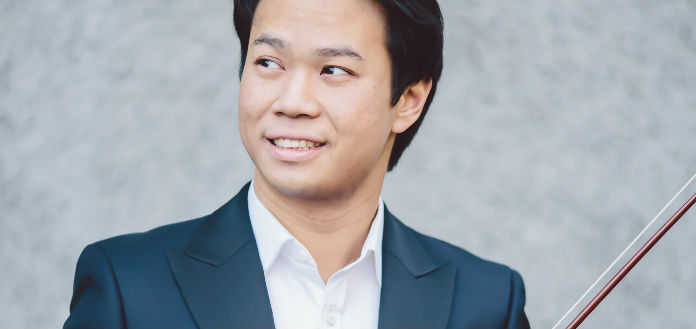 27 year old VC 'Artist' Nikki Chooi, from Canada has just minutes ago been announced as the newly-appointed Concertmaster of the Metropolitan Opera, in New York City.
A graduate of the Curtis Institute of Music and The Juilliard School, where he studied with Ida Kavafian, Joseph Silverstein and Donald Weilerstein, he is a former 1st prize winner at the Michael Hill International Violin Competition - and former laureate of the Queen Elisabeth Competition.
Nikki will serve an initial one-year term beginning next month - and continuing through to the end of the 2016-17 season.
He will join current Met Concertmaster David Chan, who will continue in the position, which he has held since 2000.
The announcement comes just a month after the Met named conductor Yannick Nézet-Séguin as its new Music Director - replacing James Levine, who will step down at the conclusion of the current season.
"I am thrilled and honoured for this new and exciting opportunity,' Nikki has told The Violin Channel.
"I remember watching my first Met performance just a few years ago, whilst a student at Juilliard, and I was in sheer awe ... to now soon imagine myself a part of it, is just so hard to believe at this moment ... " he has said.
https://www.youtube.com/watch?v=G0tNI2O0fQQ&showinfo=0&autohide=1
VC 'ARTIST' NIKKI CHOOI | SIBELIUS VIOLIN CONCERTO | 3RD MVT | 2013 MICHAEL HILL INTERNATIONAL VIOLIN COMPETITION | 1ST PRIZE 
Nikki will step down from his recently-appointed position with the classically-trained string trio, Time for Three - and will be replaced in the ensemble by 26 year old VC 'Artist' Charles Yang.
"I can't imagine a better fit for the Met Orchestra - Nikki is a formidable violinist and musician," Time for Three's Nick Kendall has told The Violin Channel.
"There is also a feeling of the stars having completely aligned with Charlie joining us ... the creativity, energy and sheer ability he brings is unequalled ... I'm so pumped - after 16 years, it feels like we are just starting out again ... " Kendall has gleamed.
"I have so much respect for the Tf3 guys ... when i first started jamming with them, it just felt so damn right ... like I was with like-minded musicians," Charles has told The Violin Channel.
".... they even give me goodnight kisses!" he has laughed.
CHARLES YANG | SIA | CHANDELIER (ARR. ELECTRIC VIOLIN)
"I would like to express my gratitude to Nick, Ranaan and the entire Time for Three team for embracing me with such generosity and warmth this past year ... our adventures, though short, were memorable ..." Nikki has said.
The Metropolitan Opera season opens September 21st - with a new staging of Wagner's epic romance 'Tristan und Isolde'.
PREVIOUS