North Shore Chamber Music Festival to Present Jens Nygaard Documentary
The Violin Channel caught up with Vadim Gluzman, North Shore's Artistic Director, to learn more about the conductor
As part of the 2023 North Shore Chamber Music Festival's (NSCMF) "Masters of the Past, Present and Future" series, the EMMY Award-winning documentary, "Life on Jupiter," will be available to watch here on The Violin Channel on March 19 at 1 PM (ET).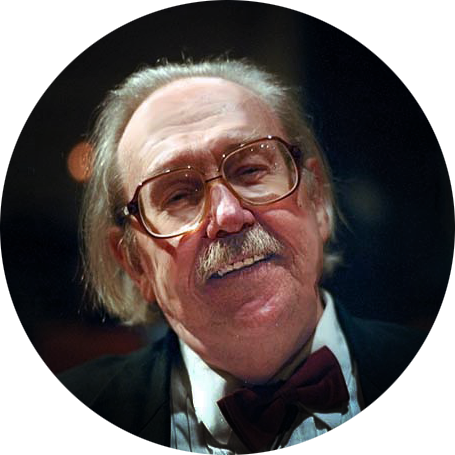 Provided by producer-director Martin J. Spinelli and editor Michael Grenadier, the film centers on conductor Jens Nygaard, who passed away in 2001.
We sat down with violinist and Artistic Director of NSCMF, Vadim Gluzman, to learn about Jens Nygaard's contributions to the industry and his unique life.
VC: What was the inspiration for starting the Masters of the Past, Present and Future series? What differentiates it from other programs on your onstage/offstage programs?
Gluzman: In the classical music industry, we always talk about tradition. Music, in general, is a traditional kind of art. To that end, I was always fascinated with where we come from, where we are, and where we are going. It is incredibly inspiring to realize our connections to the past and, even more intersting to see what happens next.
In our case, what happens next is up to our young generation of musciains. Every mentor I ever had as a young artist gave me something that I carry with me to this day. I hope we can pay it forward, give them a stage to blossom, and show them where we come from. Every event in this series, in a way, represents this idea.
Why was it important for you to share this film with your community and audience?
As a young man, I arrived in New York and was introduced to this maverick, Jens Nygaard. He heard me play, and when we sat for lunch he immediately said, "I am the best accompanist you will ever work with." He said this with such incredible sincerity and lack of ego — it was said in a way to make me feel welcome.
The first concert we did together was overwhelming, and to see this group of musicians who were paid in subway tokens and poetry books, was astounding. Very often, he didn't have money to pay his musicians, but they would stand in line to play for him. He was demanding, he was ferocious, and it was the most incredibly enlightening experience playing with him.
I had the good fortune of working with him from that point on until he passed in 2001, but the younger generation will not get to meet him. Luckily, there is this beautiful film which was made in the last year and a half of his life, which will act as a window into his world.
At one point, my wife Angela and I thought to reach out to the producer and beg him to let us use the film. Instead, the generous Martin Spinelli was thanking us for the idea.
Can you give us some insight into the title? Why "Life on Jupiter?"
Jens Nygaard was the founder and conductor of the Jupiter Symphony. Jens did things his own way — who else would name an orchestra after a symphonic work?
Today, the organization is a concert series in New York called Jupiter Symphony Chamber Players. They're run by Jens' close associate and advisor, Michael Volpert, and Mei Ying, his long-time partner.
A number of our recipients from the North Shore Chamber Music's Festival Scholarship Fund are now part of the Jupiter family. They know about Jens Nygaard, but they have never met him, so the film presentation is also an obligation to them.
I will never forget sitting at the Good Shepherd's Church on 66th Street listening to the Jupiter Symphony playing Beethoven's 7th Symphony. At the end, as the last chord sounded, I found myself standing on my chair and screaming something. I'd never experienced anything like this, I was just exhilarated.
What did you think differentiated him from other conductors?
I think in his case, it was his lack of ego. To him, there was nothing between him and music. There was nothing between the audience and music. Also, he never positioned himself as a maestro and never used the term. I remember he would walk into the orchestra and conduct one player when he wanted to make a point of some sort.
In terms of musicianship knowledge, he played every orchestra instrument. He graduated from Juilliard as a pianist and had a very eventful, difficult, and exciting life. He spent time in a mental institution, he was homeless for a period of time, and then he was also on stage at Carnegie Hall. These kinds of people are very rare. And he was very open with his struggles in life — he would tell you about it after three minutes of meeting you. He had absolutely no complexes about it.
Lastly, a connection was absolutely instant with him. You met him and felt like you've known him all your life.
Was he part of the process of filming the documentary? 
Absolutely. There is footage of him conducting, rehearsing, screaming, crying, etc. I'm so grateful to have had the experience of knowing him, and now to share him to some degree through this screening.
What would you say has been Jens Nygaard's most impactful contribution to the music world? 
It's definitely his effect or the long-lasting echo that he had on all the youngsters that worked with him. I was teaching a masterclass yesterday in Vienna and a young lady came to play Beethoven's Kreutzer Sonata. Jens worked with me on this piece and I told this young student exactly what Jens had told me, and he's been gone for 22 years! I'm quoting him and so are scores and scores of musicians.
He showed us that there is a way to life and music that is very different, personal, and fulfilling. We say in Hebrew, "to be complete with yourself." It was really amazing to see someone who went through so much hardship and never hold a grudge toward people around him. He was all enthusiasm.
How would you like Jens Nygaard to be remembered in history?
I want him to be remembered as someone who did not understand the meaning of the word "impossible," because that did not exist for him. To get where he got in his life, creating everything was his bare hands basically, and to go through all that he went through, would seem absolutely impossible to many of us. He proved with his life that nothing is.