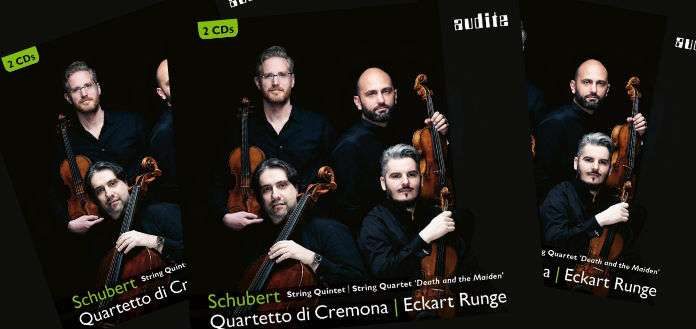 Audite Records has this month announced the release of the Italian-based Quartetto di Cremona's new album: Schubert: String Quintet & String Quartet 'Death and the Maiden'.
Recorded with cellist Eckart Runge, the disc features Schubert's String Quintet in C Major - coupled with Schubert's Death and the Maiden String Quartet No. 14 in D Minor.
"I can say that love is what inspired the repertoire on this disc ... our love of Schubert's passion for life, love and art ... and for his very personal way of looking at both illness and death ..." violist Simone Gramaglia has told The Violin Channel.
"These two masterpieces together are an intense summary of Schubert's entire life ... and after almost 20 years of playing together as a quartet it is only now that we felt it was perhaps now the right time for us to record them ..." he has said.
"This music is pure beauty ... it speaks directly from the heart and is a consolation for the soul ... our only hope is that listeners will too take away the love."