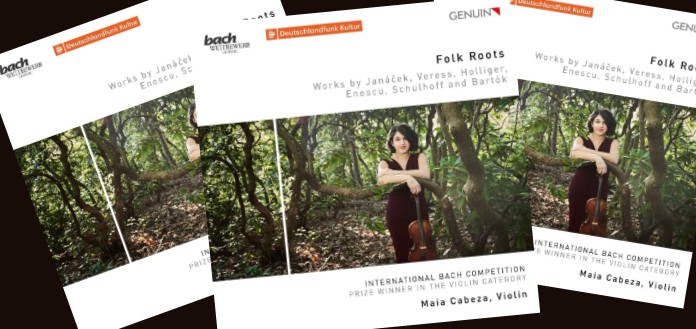 Genuin Records has announced the release of Canadian-American violinist Maia Cabeza's new album: 'Folk Roots'.
Recorded with pianist Zoltán Fejérvári and percussionist Alexandros Giovanos, the disc features Janáček's Violin Sonata, Sandor Veress' (1970-1992) Violin Sonata, Heinz Holliger's (b.1939) 'Frühlingstnaz', Enescu's Airs dans le genre roumain, Schulhoff's Solo Violin Sonata and Bartók's Violin Rhapsody No. 2.
"'Folk Roots' is a collection of chamber and solo works by various Central and Eastern European composers whose output expresses a strong influence of folk music ..." Maia has this week told The Violin Channel.
"I really loved exploring how well these pieces complement each other - highlighting both the overlapping and contrasting musical heritage of these composers," she has said.
"In addition to classics like Janacek Sonata and Bartok's 2nd Rhapsody, the CD includes lesser-known works such as Veress and Schulhoff Solo Sonatas ... I hope listeners will enjoy hearing something 'new' that will inspire them to listen to more works by these great composers."