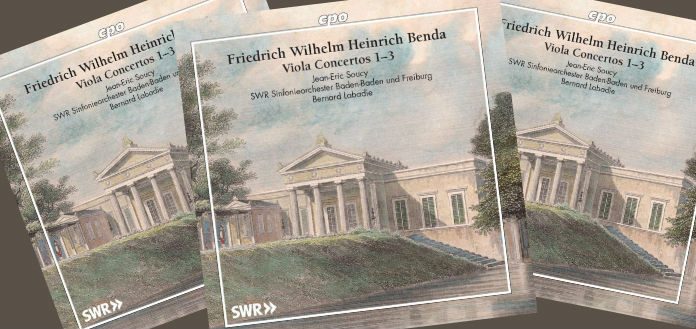 CPO Records has announced the release of French-Canadian violist Jean-Eric Soucy's new album: 'Friedrich Wilhelm Heinrich Benda Viola Concertos 1-3'.
Recorded with conductor Bernard Labadie and the Radio Symphony Orchestra Baden-Baden-Freiburg, the disc features the three previously unknown viola concerti of German Classical-Period composer Friedrich Wilhelm Heinrich Benda (1745-1814).
"Ever since I first played the Viola Concerto in F Major, which has been credited to Georg Anton Benda (1722-1795), I was impressed with the high quality of the writing and began seeking out the other two viola concertos which I believed had been attributed to his name ..." Jean-Eric has told The Violin Channel.
"After some lengthy research, I found that the F Major Viola Concerto, as well as another in F Major and one in E-Flat Major, were actually the work of Friedrich Wilhelm Heinrich Benda - Georg's nephew ... it was a big surprise and what turned out to be an even bigger reward ..." he has said.
"I believe these three concertos are valuable new additions to the viola repertoire .. and in fact during my research I found more than 120 unknown viola concertos from this era, buried in libraries throughout Europe ... I hope you'll all enjoy the discovery!"