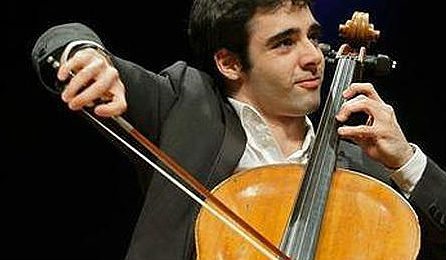 24 year old Spanish cellist, Pablo Ferrandez has been announced as the 'Young Artist of the Year' at the annual 2016 International Classical Music Awards – in Kursaal, San Sebastian.
A graduate of the Queen Sofia College of Music and the Kronberg Academy, where he studied with Natalia Shakhovskaya and Frans Helmerson, Pablo is a former prize winner at the Paulo and Tchaikovsky International Cello Competitions.
Awarded annually since 2011, the International Classical Music Awards' jury consists of respected music critics from a number of international arts magazines – including Andante, Crescendo, Fono Forum, Gramofon, Kultura, Musica, Musik & Theatre.
"According to our criteria only really outstanding recordings are allowed to win a prize, and to get there, we will certainly never be misled by any chart rankings or the whatsoever popularity of artists," ICMA President, Remy Franck has told The Violin Channel.
"At ICMA, less known musicians and smaller independent labels have a chance ... it's all about musical quality and integrity," he has said.
[video_lightbox_youtube video_id="nKf7LKurAx8" width="590" height="385" auto_thumb="1"]
PABLO FERRANDEZ | DVORAK CELLO CONCERTO | 1ST MVT | 2015 TCHAIKOVSKY INTERNATIONAL CELLO COMPETITION
The 2016 'Lifetime Achievement Award' was presented to soprano Dame Felicity Lott.
Composer, trombonist and conductor Christian Lindberg was awarded the 'Artist of the Year' accolade.
Violinist Isabelle Faust and pianist Alexander Melnikov were presented the 'Best Chamber Music Recording' award - for their release of Brahms' Violin Sonatas No. 2 & 3 and Robert Schumann's 'Romances' on the Harmonica Mundi album.
The 'Discovery Award', awarded to a musician aged 12 to 18 of exceptional potential, was awarded to flutist Nikolai Song, from South Korea.
The French-based independent record label, Harmonia Mund was awarded the 'Label of the Year'.