Paris's La Maestra Conducting Competition Announces Candidates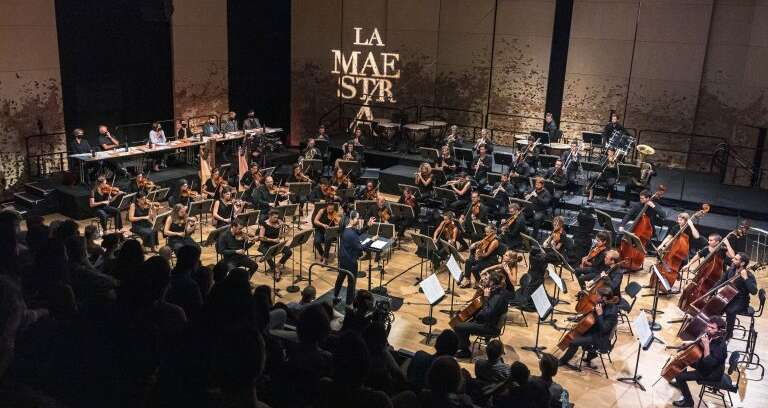 (Image courtesy: Paris Mozart Orchestra)
The biannual La Maestra International Competition for Women Conductors was established in 2019 through the collaboration of the Philharmonie de Paris (PdP) and Paris Mozart Orchestra (PMO). The event launched in 2020 to great acclaim. 
This year's second edition of the competition received 202 applications from across 48 countries in both North and South America, Europe, Asia, Oceania, and Africa, with an average age of 35 years.
The 14 candidates for the 2022 La Maestra International Competition are:
Yeo Ryeong Ahn

, 29 (South Korea)

Clara Baget

, 23 (France)

Mélisse Brunet

, 44 (France)

Mercedes Diaz Garcia

, 41 (Spain)

Ustina Dubitsky

, 33 (Germany)

Tamara Dworetz

, 32 (USA)

Beatriz Fernandez Aucejo

, 38 (Spain)

Vivian Ip

, 35 (Hong Kong)

Nikol Kraft

, 33 (Czech Republic)

Maria Kurochkina

, 32 (Russia)

Natalia Raspopova

, 39 (Australia)

Joanna Natalia Slusarczyk

, 36 (Poland)

Anna Sułkowska-Migoń

, 26 (Poland)

Zoe Zeniodi

, 45 (Greece)
Additionally, the competition is complemented by the La Maestra Academy — a two-year program that provides the selected candidates with professional development and industry guidance.
Chaired by Deborah Borda, the jury will comprise Marin Alsop, Claire Gibault, Ariane Matiakh, Kwamé Ryan, Markus Stenz, and Jean-François Verdier.  
Three main prizes will be presented — the €20,000 first prize, €10,000 second prize, and €5,000 third place — as well as additional awards including the PMO prize at €2,500 plus an audience prize, among others. The awards ceremony will be held at the Cité de la musique.
The competition and academy were developed to create more opportunities for women conductors in the music industry. It is co-directed by PMO's artistic director Claire Gibault and PdP's general manager, Olivier Mantei. 
The competition's website explains that "while more and more women conductors are enjoying successful careers, deeply entrenched sexist discrimination is sadly still a very-present obstacle for many of the others.
"Recent studies have shown that only 4% of conductors programmed by French musical institutions are women," it continues. "The wider European situation is no better, with only 6% of guest conductors being women. Remarkably few women candidates are admitted to compete in existing conducting competitions, and very few women serve on their selection panels and juries."
For more information on each of the candidates, click here.