The Institute for Composer Diversity's (ICD) 2022 Orchestra Repertoire Report was produced in partnership with the League of American Orchestras. Using databases and analysis, the ICD promotes the discovery, study, and performance of music written by composers from historically excluded groups. 
The purpose of the 2022 Orchestra Repertoire Report was to examine whether U.S. orchestras have been programming concerts differently now than in previous years. Authors of the report included researchers Rob Deemer and Cory Meals, assisted by Humay Gasimzadeh, Ariel Magno da Costa, and Jessica Sisti. 
Focusing on works by women composers and composers of color, plus living composers from all gender identities and racial and ethnic groups, the research data reflects season programming by various U.S. orchestras as well as longitudinal trends from 2015 to the current 2021-22 season.
According to the report, concerts featuring music by women composers and composers of color increased from 4.5% in 2015 to 22.5% in 2022, while works by living composers increased overall from 11.7% to 21.8% in the same time frame. 
Such changes in diverse programming occurred across all measured orchestra budget groups and geographic regions. The 133 orchestras involved in the study included the New York Philharmonic, Boston Symphony, Houston Symphony, and the Cleveland Orchestra.
Additionally — and most notably — works by women of color increased from 0.4% in 2015 to 6.1% by 2022. Though such increases are very promising, the report acknowledged that "there's still more work to do." 
While there was a 16.8% decrease in programmed works by deceased white male composers in the 2015 to 2022 trend, they "still dominate the musical landscape," and comprised over two-thirds of the 2021-22 season's programs. 
"There is definitely more work to be done to provide audiences access to a broad diversity of musical voices, [though] many orchestras throughout the United States have been making intentional changes in their programming over the past few years and it is my hope that these changes will encourage others at the professional, collegiate, and K-12 levels to do the same," said ICD's director and founder Rob Deemer in the press release.
Further, composers of color and women composers with the most programmed performances in the 2021-2022 season included Lili Boulanger, Anna Clyne, Samuel Coleridge-Taylor, Duke Ellington, Gabriela Lena Frank, Jessie Montgomery, Florence Price, Chevalier de Saint-Georges, and William Grant Still, among others.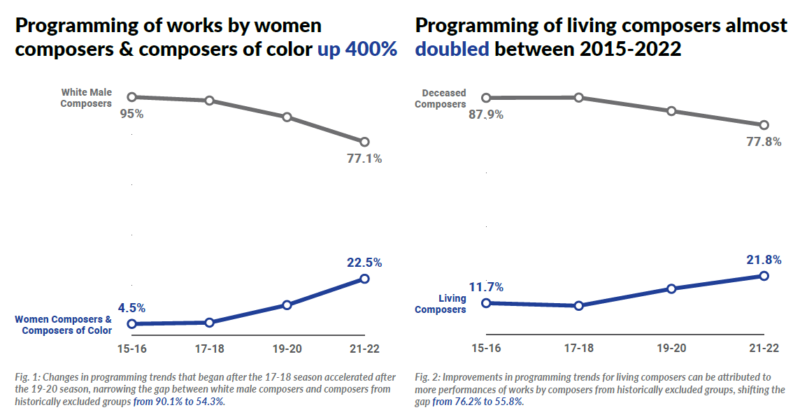 The authors of the report concluded that the performance of "more distinct works by [women composers and composers of color] is a strong indicator that those composers are becoming better known throughout the orchestral community," and that "hopefully, we will see their music find a permanent place in the repertoire in the future."
Following the data results, the report includes ideas about how orchestras can diversify their concert repertoire. The first is distribution, where works by women composers and composers of color could be spread throughout a season rather than being performed in one night. 
Secondly, the report suggests avoiding topical limitations being placed on composers when commissioning new works, as they "have much to say about the world beyond works that speak directly to their identity or background."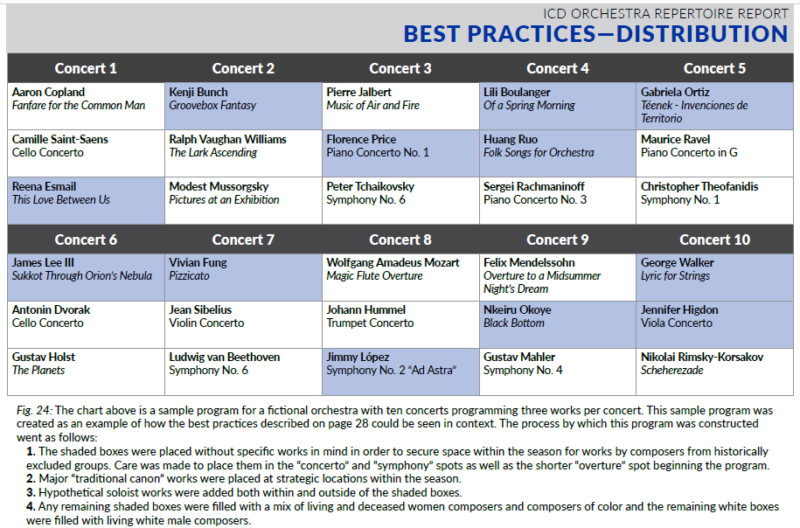 Repertoire selection based on music that resonates with the orchestra and subsequently with audiences as well is encouraged, while benchmarks are suggested to help set minimum percentage goals before making any final programming decisions.
Lastly, when orchestras perform several works from one composer in a series or across the season, it is explained that this can unintentionally remove space in a concert season that could be used to feature works by women composers and composers of color.
"Our field is immensely stronger through diversity and inclusivity, both on stage and off, and I'm thrilled that this important new report gives us evidence of orchestras' increasingly diverse programming, as well as hope for the future," expressed League of American Orchestras President and CEO, Simon Woods.
The League's new partnership with the ICD will continue in the 2022-2023 season and aims to include smaller budget orchestras in further research, as well as create a longer trend line reaching back to 2010. 
"We are excited about this new partnership…as well as extremely grateful for the support we have received from the Sphinx Organization and look forward to broadening and expanding our research in this area," Deemer added.
The report includes a comprehensive list of works by women composers and composers of color, as well as all 133 orchestras involved in the research. For the full report, click here.