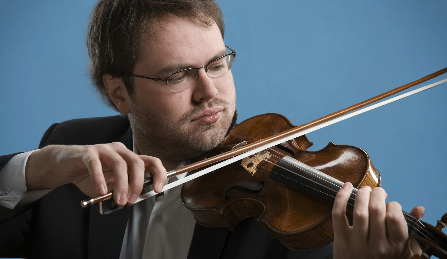 With the 2015 Jean Sibelius International Violin Competition entering its final stages in Helsinki, VC recently caught up with a number of former prize winners, to get a better understanding of their time in Finland – and the opportunities the quinquennial event has presented.
Former 2nd Prize Winner, Petteri Iivonen from Finland guest blogs about his 2010 experience.
"Taking part in the 10th International Jean Sibelius Violin Competition in 2010 was a surreal experience for me having grown up following the competition live since 1995 when Pekka Kuusisto won the first prize. That year my mother didn't send me to school the following morning because I wanted to see his performance of the Sibelius Concerto again on the TV. Two years later in 1997 I was able to join the studio of Tuomas Haapanen through the Sibelius Academy Junior Department and I actually became a studio mate of Pekka!

The two weeks of the competition (2010) were exceptionally cold in Helsinki with temperatures as low as -21 Celsius. I don't know how all the players survived it and there were no major instrument issues as far as I know! It was really cold for me too because I had been studying with Hagai Shaham in California and in Tel Aviv and had become accustomed to the much warmer climates.


Throughout the competition I had a car and I helped many fellow candidates with rides late at night after enjoying dinner together in the city. For example one night I would drive Nikita Borisoglebsky to the neighboring city of Espoo and then I would drop off Andrei Baranov all the way in the east end of Helsinki before heading to sleep myself.
When I flew in to Helsinki and entered the competition I was thinking to myself "I've got nothing to lose" and trough each round I was just enjoying the heck out of performing at the venue from my childhood dreams. This way of thinking worked well for me and I was not particularly stressed out at any time.

The competition was very well organized and all the competitors stayed at local host families – many candidates made life long friends with the hosts. In my opinion it is more relaxing to stay with a host family than to have 50 violinists practicing Paganini in a hotel all at the same time!

The final round in 2010 was held at the old Finlandia Hall which has since been replaced by the acoustically superior Helsinki Music Center. The old building had some charm to it, but it was a little disappointing to play in. Both of the orchestras, Helsinki Philharmonic conducted by John Storgårds and the Finnish Radio Symphony Orchestra conducted by Sakari Oramo, performed wonderfully and the conductors were supportive of the candidates at all times. For me it is always a special event to play Sibelius in Finland and I hope the final candidates will enjoy that opportunity as much as I did.

Following the results of the 2010 competition I received several concert offers with many orchestras and festivals all around the world. Focusing on those performances is the most important part of the competition because those performances are the ones that will help you build a steady concertizing career.

I wish to congratulate all the candidates for their hard work and I hope the finalists will enjoy performing for the dedicated crowd with the two orchestras. It was a very special occasion for me and I hope it will be for you as well.

PS. If you break an e string in the final round, the concertmasters have nice violins you can try to commandeer ;)"
Comments
comments