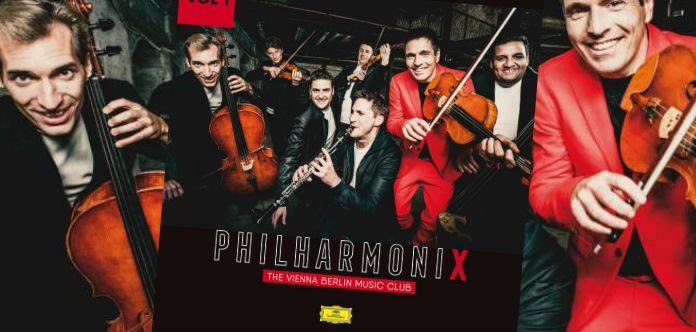 Deutsche Grammophon has announced the release of multi-genre septet, Philharmonix's debut album: The Vienna Berlin Music Club. 
Recorded with members of the Vienna and Berlin Philharmonic orchestras, the CD features a heady cocktail of classical, jazz, klezmer, latin and pop - as they say: 'anything goes, as long as it's fun'.
The group comprises violinists, VC Artist Noah Bendix-Balgley and Sebastian Gürtler, violist Thilo Fechner, cellist Stephan Koncz, bassist Ödön Rácz, pianist Christoph Traxler and clarinetist Daniel Ottensamer.
"The inspiration for this CD is simply music that we love playing ... without any judgment of which genre ... we have classical works that are reimagined with new arrangements, pop songs in instrumental versions, swing and folk music ..." VC Artist Noah Bendix-Bagley has told The Violin Channel.
"We play music that we love and enjoy ... the fun stuff that we'd never get to play in our jobs with the Berlin Philharmonic and Vienna Philharmonic," he has said.
Track previews available now on Amazon and iTunes: