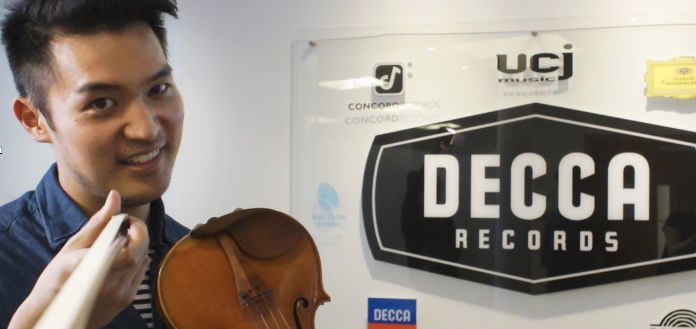 Decca Classics has today announced the signing of Australian VC Artist Ray Chen to a major new recording deal and multimedia partnership.
"We are very excited to welcome Ray to the Decca family … not only is he a terrific performer with stunning virtuosity, he is also an extraordinary communicator – on stage, on record and online …" Decca Classics Managing Director Dr. Alexander Buhr has told The Violin Channel.
"With his infectious energy and innovative approach, Ray is forging a new path for classical music in the digital sphere and is at the forefront of a new generation of artists on Decca Classics ..." he has said.
VC ARTIST RAY CHEN | HOW TO GET A RECORD DEAL (IN RAY'S MIND) | DECCA CLASSICS 
"I'm super stoked to be joining forces with the awesome team at Decca Classics …we'll be working together on a variety of projects which include the recordings of classic repertoire ... but I'm happy that I'll have a partner which will help boost the multimedia side of things too ... " the 27 year old has said.
A graduate of the Curtis Institute of Music, where he studied with Aaron Rosand, Ray is a former 1st prize winner at the Yehudi Menuhin and Queen Elisabeth International Violin Competitions.
Decca's roster also includes Nicola Benedetti, Kyung Wha Chung, Janine Jansen, Leonidas Kavakos and Alisa Weilerstein.
VC ARTIST RAY CHEN | SIBELIUS VIOLIN CONCERTO | KENT NAGANO & GOTHENBURG SYMPHONY | 2015