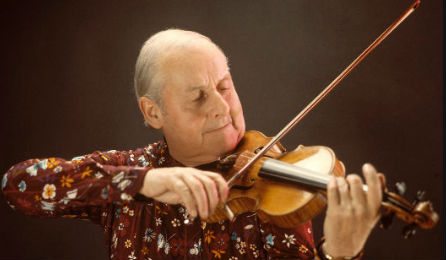 Legendary French jazz violinist, Stephane Grappelli was born on this day in 1908 – 108 years ago.
Dying in 1997, aged 89, Mr Grappelli is remembered for his lively, elegant, improvisatory style and extraordinary public longevity.
[video_lightbox_youtube video_id="mZVJ9DlBKyg" width="590" height="385" auto_thumb="1" ]
STEPHANE GRAPPELLI | IT HAD TO BE YOU | 1986
Yehudi Menuhin once described him as 'like one of those jugglers who send 10 plates into the air and recovers them all".
When asked on his 85th birthday if he was considering retirement, Grappelli replied: "Retirement! There isn't a word that is more painful to my ears. Music keeps me going. It has given me everything. It's my fountain of youth."
[video_lightbox_youtube video_id="S4kf5aU1Wtg" width="590" height="385" auto_thumb="1" ]
STEPHANE GRAPPELLI | GERSHWIN | HOW HIGH THE MOON | 1991
[video_lightbox_youtube video_id="QlmddugvbRI" width="590" height="385" auto_thumb="1" ]
STEPHANE GRAPPELLI | GERSHWIN | SOMEONE TO WATCH OVER ME
[video_lightbox_youtube video_id="46AGXFJWakg" width="590" height="385" auto_thumb="1" ]
STEPHANE GRAPPELLI & YEHUDI MENUHIN | GADE | TANGO JALOUSIE