VERY SAD NEWS | Pre-Eminent Italian Conductor Claudio Abbado Has Passed Away – Aged 80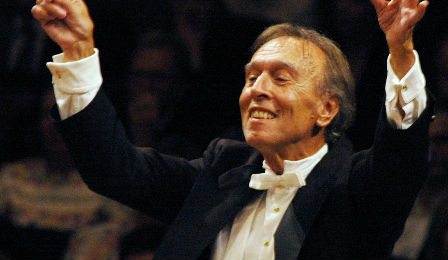 Italian conductor Claudio Abbado has passed away – aged 80.
"I found out half an hour ago from his personal doctor. This is such a painful moment," a tearful Attilia Giuliani, Head of the Abbadiani Association has said.
Raffaela Grimaudo, a spokeswoman for the Bologna mayor's office has confirmed the report.
Widely regarded as one of the pre-eminent conductors of the 20th and 21st Centuries, during a stellar career Maestro Abbado served as Music Director of La Scala Opera House, Principal Conductor of the London Symphony Orchestra, Principal Guest Conductor of the Chicago Symphony Orchestra, Music Director of the Vienna State Opera - and Principal Conductor of the Berlin Philharmonic.
He had previously, in 2003 recovered from stomach cancer, resulting in the removal of a portion of his digestive system - and had recently cancelled a series of concerts with the Orchestra Mozart due to poor health.
Claudio Abbado | Mahler | Symphony No. 5 | Adagietto | Lucerne Festival Orchestra
In 1991, he fathered a child, Misha, now 22, with violin virtuoso Viktoria Mullova.
In 2003, he founded the Lucerne Festival Orchestra - and in 2013 was honoured as a 'Senator for Life' in the Italian Senate.
Our condolences are with his family, friends and colleagues.