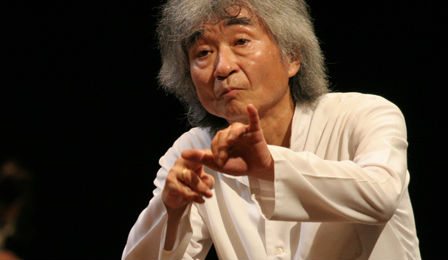 It has been announced today that eminent Japanese conductor Seiji Ozawa has cancelled three upcoming performances - after falling and fracturing his hip on August 1st.
The 79 year old former Principal conductor of the Boston Symphony and Vienna State Opera, will be replaced by American conductor Gil Rose for performances of Berlioz's opera 'Beatrice et Benedict' - at the Matsumoto Festival, in Japan on August 24th, 27th and 29th.
Festival organisers have indicated Maestro Ozawa is still planning to conduct his 80th birthday concert, at the Festival on September 1st.
Maestro Ozawa only returned to the podium in August of last year after being sidelined for 4 season with esophageal cancer and lower back surgery.
We wish him a speedy and painless recovery
PREVIOUS