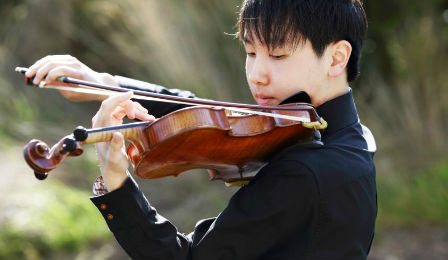 The 6 Finalists have today been announced at the 2015 Seoul International Violin Competition in Seoul, Korea.
The 2015 Finalists are:
28 year old Xiao Wang from China
17 year old Ayana Tsuji from Japan
19 year old Stephen Kim from the United States
27 year old Petteri Iivonen from Finland
20 year old Christine Seohyun Lim from the United States
27 year old Suliman Tekalli from the United States
The final round will be held on the 28th and 29th of March, with this year's 1st prize winner to receive US $50,000 and a number of international engagements.
This year's jury comprises: Chairperson Hyo Kang, Radu Blidar, Choon-Soo Chung, Koichiro Harada, Kyung Sun Lee, Igor Ozim, Lucie Robert, Joel Smirnoff, Lina Yu, Pavel Vernikov and Krzysztof Wegrzyn.
Previous Seoul International Violin Competition prize winners include VC 'Young Artists' Clara-Jumi Kang, Andrey Baranov and Yoo Jin Jang.
PICTURED: 2015 Seoul International Violin Competition Finalist, 19 Year Old Stephen Kim from the United States