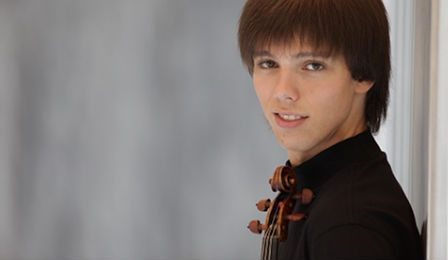 27 year old Sergei Dogadin, from Russia has just minutes ago been awarded 1st prize at the 2015 Joseph Joachim International Violin Competition, in Hannover, Germany.
A student of Boris Kuschnir, Sergei is a former top prize winner at the Tchaikovsky, Paganini and Andrea Postacchini International Violin Competitions.
He will receive €50,000 (US $57,000), a CD recording on the Naxos label, the 3 year loan of a Giovanni Battista Guadagnini violin – and a number of important international performance opportunities.
[video_lightbox_youtube video_id="6cN7EFm3zQY" width="590" height="385" auto_thumb="1" ]
SERGEI DOGADIN | SHOSTAKOVICH VIOLIN CONCERTO NO. 1 | 2015 JOSEPH JOACHIM INTERNATIONAL VIOLIN COMPETITION  | 1st PRIZE
2nd prize was awarded to 26 year old Shion Minimi, from Japan.
3rd prize was awarded to 24 year old VC 'Young Artist' Richard Lin, from Taiwan/United States.
4th prize was awarded to 27 year old Benjamin Marquise Gilmore, from the Netherlands/United States.
5th prize was awarded to 17 year old Ayana Tsuji, from Japan.
6th prize was awarded to 26 year old Amalia Hall, from New Zealand.
The €2000 prize for the best performance of this year's set work,'>Cut-up<' by Robert David Coleman, and the €2000 'Audience' prize were awarded to Ayana Tsuji.
The €2000 'Community' prize, as voted by the internet audience, was awarded to VC 'Young Artist' Richard Lin.
Full video performances of all rounds, available: www.jjv-hannover.de/en/videos