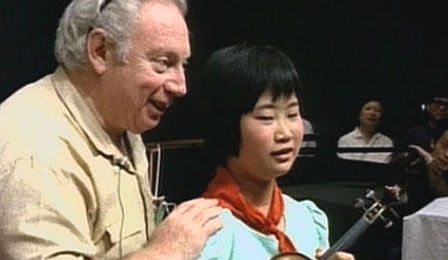 The Shanghai Isaac Stern International Violin Competition has today announced the extension of the application deadline to February 29th, 2016.
"In light of the complications resulting from extreme weather around the world, a decision has been made to extend the online application from January 31st to February 29th, 2016," Competition Executive President and President of the Shanghai Symphony Orchestra, Fedina Zhou has said.
"Applications have been very solid for our inaugural competition, but the Committee feels that this 1-month extension will address the applicants' good-faith efforts to apply," she has told The Violin Channel.
The competition also last month announced in a landmark decision to provide full transparency of the 2016 competition's scoring process -  pledging to make 100% public each of the individual juror's scores and comments.
"It is good to see that at last a major competition is making an attempt for complete fairness after the corrupt results of recent competitions," Curtis Institute of Music pedagogue, Aaron Rosand told The Violin Channel following last month's announcement.
All application materials must be postmarked by February 29th, 2016.
Shanghai Isaac Stern International Violin Competition will be held in Shanghai, China from August 14th to September 2nd, 2016 – with the first prize winner to receive an unprecedented US$100,000.
Open to violinists aged between 18 and 32, the 2016 jury will comprise: David Stern (Co-Chairperson), Vera Tsu Weiling (Co-Chairperson), Boris Kuschnir, David Cerone, Daniel Heifetz, Zakhar Bron, Maxim Vengerov, Martin Engstroem, Emmanuel Hondré, Elmar Oliveira, Jian Wang, Zhenshan Wang and Lina Yu.
Any applicants who have received a 1st, 2nd or 3rd prize from the Hannover, Sibelius, Indianapolis, Montreal, Paganini, Tchaikovsky, Queen Elisabeth or Wieniawski International Violin Competitions will be exempt from DVD pre-selection and will be provided with travel reimbursement and free accommodation to attend the opening live round in China.
All candidates admitted to the opening public round, in Shanghai will receive up to $1000 travel reimbursement – in addition to complimentary accommodation.
For application details, visit: www.shcompetition.com