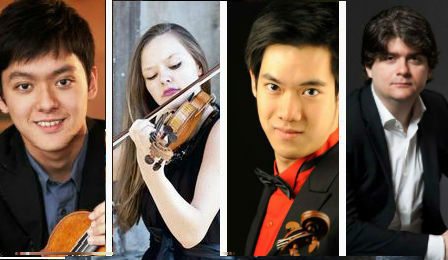 The 6 Finalists have been announced, just minutes ago at the Singapore International Violin Competition – including 4 VC 'Young Artists'.
The 2015 Finalists are:
VC 'Young Artist' Alexandra Conunova from Moldova
VC 'Young Artist' Richard Lin from Taiwan
VC 'Young Artist' Yu-Chien Benny Tseng from Taiwan
VC 'Young Artist' Fedor Rudin from France
Sirena Huang from the United States
Hyun Jae Lim from South Korea
For the Final round each candidate will present a Mozart Violin Concerto with the Yong Siew Toh Conservatory Orchestra – with 3 candidates to then progress to the Grand Final Romantic Concerto stage, on January 21st.
The 1st prize winner will receive an unprecedented US $50,000, a CD recording with the Naxos label, the 3 year loan of a fine instrument from the Mr & Mrs Rin Kei Mei collection and a number of significant international performance opportunities – including solo engagements with the London Philharmonic, Czech Philharmonic Orchestra and the West Australian Symphony Orchestra.
The Violin Channel, as the 'Official Online Media Partner' of the 2015 competition, will keep you abreast of the results as the rounds progress.
PICTURED: Finalists, VC 'Young Artists' Yu-Chien Benny Tseng, Alexandra Conunova, Richard Lin and Fedor Rudin