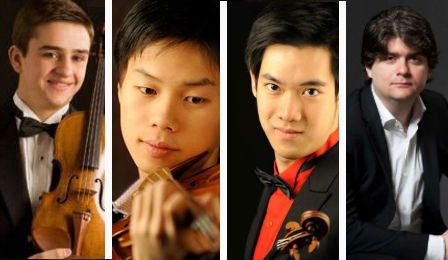 The opening round competitor order has been announced at the Inaugural Singapore International Violin Competition - to commence at 2pm local time today.
Saturday 10th January 2015
Session 1.1 (2.30-4.45pm)
Francisco Fullana from Spain
Xiaoxuan Shi from China
Lukas Stepp from Germany
Christopher Scherer from USA
JiEun Anna Lee from South Korea
Session 1.2 (5.15-6.45pm)
VC 'Young Artist' Fedor Rudin from France
Ui-Youn Hong from South Korea
Sirena Huang from USA
Sunday 11th January 2015
Session 2.1 (2.30-4.45pm)
Elly Suh from USA
Lijia Phang from Singapore
Yu-Ting Chen from Taiwan
VC 'Young Artist' Alexandra Conunova from Moldov
Oleksandr Korniev from Ukraine
Session 2.2 (5.15-7.30pm)
VC 'Young Artist' Yu-Chien Benny Tseng from Taiwan
Youjin Lee from South Korea
Mimi Jung from USA
Ian Ike See from Singapore
Karen Kido from Japan
Session 2.3 (8.30-10.30pm)
Yat Sze Wong from Hong Kong
Jun Hong Loh from Singapore
Chisa Kitagawa from Japan
VC 'Young Artist' Timothy Chooi from Canada
Monday 12th January 2015
Session 3.1 (10-12.15pm)
Tianyang Gao from China
Bomsori Kim from South Korea
Yuqing Zhang from China
VC 'Young Artist' Richard Lin from Taiwan
Elina Buksha from Latvia
Session 3.2 (1.30-3.45pm)
VC 'Young Artist' William Hagen from USA
Yu Ah Ok from South Korea
VC 'Young Artist' Boson Mo from Canada
Yun Tang from China
Eunae Koh from South Korea
Session 3.3 (4.15-5pm)
Petteri Iivonen from Finland
HyunJae Lim from South Korea
Ryota Kuratomi from Japan
All performances will be available on the competition's youtube page following the conclusion of each session.
The inaugural competition will be hosted by the Yong Siew Toh Conservatory of Music and the National University of Singapore, with the 1st prize winner to receive an unprecedented USD $50,000, a CD recording with theNaxos label, the 3 year loan of a fine instrument from the Mr & Mrs Rin Kei Mei collection and a number of significant international performance opportunities – including a coveted solo engagements with the London Philharmonic Orchestra, Czech Philharmonic Orchestra and the Western Australia Symphony Orchestra.
The competition's jury will include: Chair Qian Zhou (Singapore), Pierre Amoyal (France), Shmuel Ashkenasi (USA), Nam Yun Kim (South Korea), Takashi Shimizu (Japan), Vilmos Szabadi (Hungary), Dima Tkachenko (Ukraine), Tong Wei Dong (China) and Krzysztof Wegrzyn (Germany).
Tickets to all sessions are available at www.sistic.com.sg – starting from just S$10.00.
The triennial event is supported by Far East Organisation, Hong Leong Foundation, Lee Foundation, Mr & Mrs Rin Kei Mei and the National Arts Council of Sinagpore.
The Violin Channel will be reporting live from all 3 venues for the next 12 days, as the competition's 'Official Online Media Partner' – You won't miss a beat!
Pictured: VC 'Young Artists' William Hagen, Timothy Chooi, Richard Lin and Fedor Roudine.