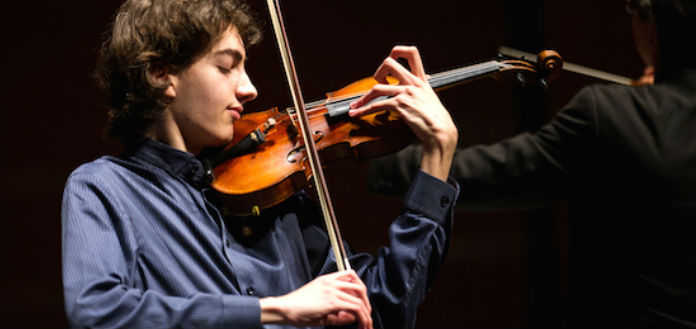 With the 2016 Montreal international Violin Competition reaching its final stages, VC recently caught up with a number of former prize winners to get a better understanding of their time at the competition – and the opportunities the event has presented.
2013 2nd Prize Winner, VC 'Young Artist' Stephen Waarts guest blogs about his eventful experience.
"I had a really great experience at the Montreal Competition in 2013.
We had an orchestra concert at Curtis the day before the competition drawing, so I arrived in Montreal a little late and remember feeling a little stressed before I arrived, because I hadn't had too much time beforehand to prepare the repertoire.
But once I got to the competition drawing I could feel from the atmosphere that I would have a good experience in Montreal.
I was lucky enough to be placed with a wonderful host family in the close suburbs of Montreal, who had four kids my age and older, so there was a lot of activity around all the time, which I loved!
I also was paired with a wonderful pianist for the first two rounds, who really made me feel as comfortable as possible on stage, and brought a lot to our collaboration.
So the environment was pretty ideal for me to perform at my best and I couldn't blame anyone but myself!
I especially enjoyed the repertoire I played in the second round as well, for which we could basically choose our own recital program, including a contemporary piece.
Probably the biggest highlight of the competition though was the final round, where I had the opportunity to play Brahms Concerto with the Orchestre Symphonique de Montreal and a personal idol, Maxim Vengerov, conducting.
I remember being very nervous when I met the Maestro for a run-through before our orchestral rehearsal; it felt slightly surreal to me but we got along well.
The OSM is one of the best orchestras I've ever played with and the concert was a real highlight for me.
In fact all of my performances at the competition I look at as milestones of my musical life.
Another event I know all the competitors remember about the competition is the lobster dinner the competition hosted between the finals and the gala concert. It's always nice when competitions have other events besides the competition rounds, and the dinner was a great chance for all the competitors and everyone involved with the organization to relax and connect with each other, after the stress of performing was over.
I felt the Montreal Competition did a really great job on the whole of making all the competitors feel at home, and I hope all the violinists are having a good time this year. I wish the finalists all the best of luck in their performances!
- Stephen"